2019 Hall of fame
Over the past year, many of our staff and students have won prizes, been awarded a substantial grant or been appointed to an academic association or a position in public life. All of these are good reasons to include them in our 2019 Hall of Fame. We are proud of them all.
The year of Andrea Evers
For the third year in a row, a woman has received more awards than any other: Professor of Health Psychology Andrea Evers. She received the Stevin Prize for knowledge exchange and impact, became a member of the Dutch Academy for Science KNAW and, together with her fellow professor Bernet Elzinga, she leads two projects in the Gravitation Programme (Zwaartekrachtprogramma) directed at improving the treatment of depression.
Remarkable achievements
The Faculty of Medicine/LUMC has its own extensive Hall of Fame with research awards. You can read it here.
International prizes, grants and acknowledgements

EU grants
ERC Consolidator Grant
ERC Advanced Grant
ERC Starting Grant
Other ERC grants
Erasmus+ grants for internationalisation of research and teaching
In the Erasmus+ programme the EU awards grants for international cooperation in the area of research and teaching. A total of 92 lecturers/researchers from Leiden are going to spend some time in various different countries, and their peers from these countries will be coming here. The Credit Mobility programme is for cooperation outside Europe.
Jean Monnet Grant for a Centre of Excellence
Regional cooperation in the EU and East Africa
Leiden Law School, the Faculty of Governance and Global Affairs and the Africa Studies Centre have set up a Centre of Excellence for comparative research into regional integration in the EU and East Africa, under the leadership of Armin Cuyvers (Institute of Public Law).
New EU studies course
The four themes from the master's specialisation in EU Studies – history, economics, law and politics – will be integrated into a single interdisciplinary course. This will be coordinated by Maxine Davis (Institute for History) and should culminate in an annual symposium where students present and discuss their research with researchers and policymakers.
Erasmus Mundus Joint Master's Degree
In an Erasmus Mundus Joint Master's Degree, students study in at least two countries. The Joint Master's Degree in European Politics and Society at Leiden University, Charles University (Czech Republic), Pompeu Fabra University (Spain) and Jagiellonian University (Poland) has been awarded a grant to extend the programme.
Credit Mobility programme for cooperation outside the EU
The partners are: Leiden Law School with the University of Tirana (Albania), Faculty of Science with Sichuan University (China), LUMC/Medicine with Havana University (Cuba), Faculty of Humanities with Ivane Javakhishvili Tbilisi State University (Georgia), LUMC/Medicine with the University of Indonesia and Atma Jaya Catholic University (Indonesia), ICLON with Kazguu University and Kazakh National Pedagogical University (Kazakhstan), Faculty of Science with the University of Nairobi, the Catholic University of Eastern Africa and Strathmore University (Kenya), Leiden Law School with the Holy Spirit University of Kaslik (Libanon), Faculty of Humanities with École de Gouvernance et d'Economie de Rabat (Morocco), LUMC/Medicine with the Siberian State Medical University (Russia), Leiden Law School with the University of Rwanda (Rwanda), Faculty of Humanities with Anton de Kom University (Suriname), Faculty of Science with the University of Dar Es Salam (Tanzania), Faculty of Science with the University of Pretoria (South Africa).
International acknowledgements
Appointments
Honorary doctorate
Awards and grants
Institutional subsidies and acknowledgements
National prizes and grants

NWO Stevin Prize
NWO Gravitation Grants
More from NWO
NWO - Vici
Vici grants for seven Leiden researchers:
NWO - Vidi
Vidi grants for nine Leiden researchers:
NWO - Veni
Veni grants for 25 Leiden researchers:
NWO Education grants
Comenius grants for executing an education project
NWO Rubicon grants for a period abroad
NWO - Humanities open competition
Other NWO awards
Royal Dutch Academy for Science (KNAW)
The KNAW has chosen five new members from Leiden University:
And also...
New member of the Young Academy (KNAW Jonge Akademie):
Three Leiden researchers received a KNAW Early Career Award:
Royal Dutch Association for Sciences (KHMW)
Koen Caminada appointed member of KHMW - Insitute for Tax Law and Economics
Appointments, prizes and grants
Appointments
Prizes and grants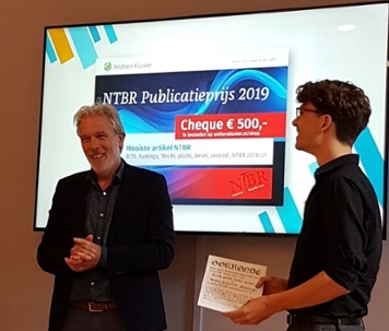 Institutional grants and acknowledgements
Honoured PhD candidates (national and international)
Royal decorations
Student prizes and acknowledgements

Awarded-winning master's students
And also....
Moot Court
Well done:
University educational prizes and other acknowledgements

Best lecturer at Leiden University
New members of the Leiden Teachers Academy:
Teaching prizes from faculties and institutes
And also:
Acknowledgements for non-academic staff
Tribute of Leiden University to others
Honorary doctorates of Leiden University
Prof. R.H. Dijkgraaf, professor of theoretical physics, director of the Institute for Advanced Study in Princeton, US, and university professor at the University of Amsterdam.
Prof. Melissa Little, professor of cell biology and theme director cell biology at the Murdoch Children's Research Institute in Melbourne, Australia.
The Faculty of Medicine/LUMC has compiled its own extensive Hall of Fame for scientific acknowledgements. Read it here.
NB: If you are aware of any omissions, please inform the news editors via nieuws@leidenuniv.nl. We will be happy to add new awards to the list.