Stephanie Rap wins KNAW Early Career Award 2019
The KNAW Early Career Award 2019 has been awarded to lecturer in children's rights Stephanie Rap. She receives the award for her research into international children's rights.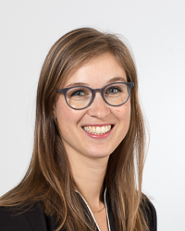 Rap is delighted with the award which was announced on Tuesday 5 November by the Netherlands Academy of Arts and Sciences (KNAW). 'On the one hand, because it is an important recognition of my academic work. On the other hand, the award shows that research on international children's rights is currently a focus area and one which can be advanced even further. With this award, I hope to be able to make a contribution in this area.'
In her research Rap combines various research methods to analyse and understand the importance of international children's rights, particularly the right to participate in legal proceedings. 'The implementation of children's rights in practice brings about a number of dilemmas and areas of tension, for example between protection and participation; the interests of the child and other pressing interests; the role and position of parents and the role of children in legal proceedings. I am attempting to reveal these areas of tension by closely studying certain practices and using empirical research (for example interviews and observations). By understanding the importance of children's rights in practice, I hope to achieve new insights that could provide professionals with tools on how to involve children in a child-friendly way in legal procedures and decisions.'
Connecting theory and practice
As a result of the award, Rap will receive 15,000 euros to be used for her research career. 'I would like to use the award to make the connection between theory and practice, by translating the results of my research into practical tools for professionals who are faced with taking decisions that involve children. The intention is to give children a voice and to involve them in an effective and meaningful way in the decisions that are taken. I would also like to use the prize to bring together and connect an international network of academics from different disciplines, including law, children's rights, developmental psychology, education studies, anthropology.'
Through the KNAW Early Career Award, the KNAW aims to support young, talented PhD graduates. The award is intended for researchers at the start of their career who are capable of developing innovative and original research ideas.