Eduard Fosch-Villaronga receives visiting grant for cybersecurity aspects of healthcare robot technology
Dr. Eduard Fosch-Villaronga, Marie Skłodowska-Curie Postdoctoral Researcher at eLaw, received a personal visiting researcher grant from the Research Council of Norway to spend five weeks visiting the University of Oslo.
Eduard will conduct research on the cybersecurity aspects of healthcare robot technology as a collaboration between his Marie Skłodowska-Curie Postdoctoral project on the Legal Aspects of Healthcare Robots and the ongoing Norwegian VIROS Project. VIROS stands for "Vulnerability in the Robot Society" and it is a national Norwegian project at University of Oslo (UiO) that investigates the challenges and solutions in regulating robotics – legally and technically – particularly with respect to addressing the safety, security and privacy concerns such systems raise. The research is carried out by an interdisciplinary team comprising researchers from the Robotics and Intelligent Systems (ROBIN) research group at the Department of Informatics, together with the Norwegian Research Center for Computers and Law (NRCCL).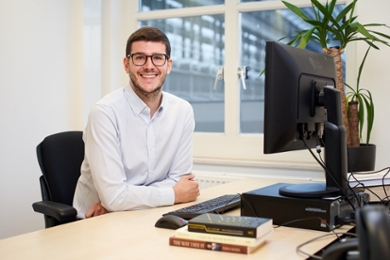 During Eduard's visit, he will learn and study aspects relating to information and cybersecurity that are essential to healthcare robot technologies together with Prof. Tobias Mahler. The Department of Private Law at the University of Oslo has large expertise on the regulation of cybersecurity, as it has addressed the legal aspects of internet security under the Signal project. The Signal project examines changes in legal frameworks for internet security by focusing on established, new and proposed legal security requirements. The university also has the SecurityLab, which investigates cyber security aspects.
During Eduard's stay at UiO, he will visit Dr. Roger Andre Soraa currently working at the Department of Interdisciplinary Studies of Culture at the Norwegian University of Science and Technology (NTNU). Roger is working on Robotization of gerontechnologies, which will be very beneficial for Eduard's project and the healthcare track of the VIROS Project.