Giacomo Fontana wins thesis prize with 'Seeking tombs from space'
The Netherlands Institute for the Near East (NINO) annually awards the best theses on the Ancient Near East. The 2018 award went to archaeology student Giacomo Fontana for his MA thesis on automatic detection and extraction of Omani burial monuments in satellite images.
Detection and recording
With his thesis, Giacomo aims to develop an efficient method to detect and record the burial monuments of Oman automatically. This approach allows for the limits of visual interpretation to be overcome and thus to fully exploit the quality and quantity of satellite images currently available.
Furthermore, this thesis seeks to go beyond the simple detection of the burials, developing a process aimed at automatically digitalising the tombs. This will allow for the extraction of morphological information that, together with the geographical position of the remains, will allow for the burials to be dated. As a consequence, it will be possible to create rich datasets of tombs suitable for use in addressing current archaeological issues.
Preservation
The automation will also greatly assist in monitoring the status of the remains over time. This is necessary due to ongoing developments and looting activities that threaten the preservation of the tombs. The study and preservation of the burial monuments are indeed urgent issues for the archaeology of the Middle East.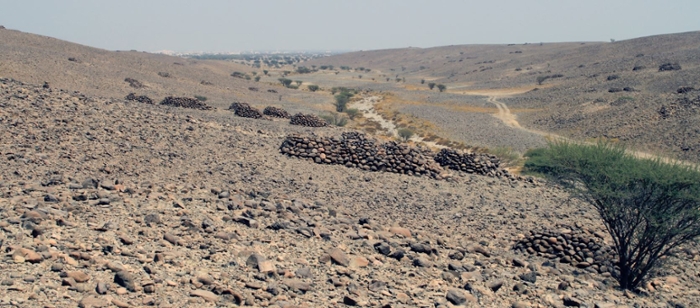 Jury report
The jury states that Giacomo has achieved something exceptional. He has developed a new methodology to detect ancient monuments – not from surveys or through visual analysis of satellite images, but through automatic detection. "This project has instant societal value," one jury member exclaims in his report. This method will not only aid archaeology but also the conservation of heritage sites in remote areas. "Send it straight to the publisher," another jury member recommends. Yet another is grateful, and clearly relieved, that the student managed to present a readable study despite the technological complexity of the topic.