Leonard Blussé receives prestigious Fukuoka Prize in Japan
Leonard Blussé, Professor Emeritus of History of European-Asian Relations, was awarded the 13th Fukuoka Prize in Japan on 10 September.
Lifetime achievement award
The Fukuoka Prize is awarded to individuals or organisations that make or have made a significant contribution to the preservation of Asian culture. Blussé has received this lifetime achievement award for establishing a new history discipline: The Maritime History of early modern East and Southeast Asia. This is unique because this history discipline takes an interdisciplinary approach. Blussé began his studies in Sinology, combined with elements from Japan Studies and the maritime history of East Asia, focusing on overseas Chinese. And his approach is considered worldwide to be the framework for researching global history.
The emeritus professor's work is respected both at home and abroad. When talking about Blussé, the organisation of the Fukuoka Prize says: 'Many scholars from Asia, including Japanese scholars, have benefited from Professor Blussé's education and many of them now have successful careers as historians. He played an important role in forming a bridge between Asia and Europe.'
Biographical case studies
As a historian, Blussé distinguishes himself by using old remaining sources from Asia as a source of knowledge and inspiration for research. Thanks to him, these sources have also become accessible to a large group of other researchers.
In his research, Blussé shows an interest in the personal circumstances of the people who lived in a certain period and through biographical case studies he tries to bring these to life. The most important example of this is his publication Strange Company (1986), which is based on his dissertation. Two years later, a chapter was published in Japanese and other works were also translated into several languages, such as Bitter's Bruid (1997) and Retour Amoy: Anny Tan - Een vrouwenleven in Indonesië, Nederland en China (2001).
'Towards A New Age of Partnership'
Internationally, Blussé is known as one of the foremost researchers on the history of the Dutch East India Company (VOC) and was one of the initiators of the education and research programme Towards A New Age of Partnership. This programme aimed to preserve the texts of the VOC in South Africa and Asia for future generations, and to use these for research on the history of Asia. Almost 100 students from Asia learned through this project how they can combine Dutch archival sources with sources in their own language; it resulted in roughly 20 (successful) PhD defences. The programme's 2006 successor, ENCOMPASS, educated about 70 students in Asia about Asian history.
University Lecturer and researcher Carolien Stolte says: 'As a historian, Leonard Blussé has always insisted on combining archival material with one's own knowledge of - and above all experience with –the languages and regions of study. In this, he has always led by example, and that is what is reflected in this prize. He has turned generations of students into empathic historians.'
Words of praise
The fact that Blussé has won the Fukuoka Prize has led to praise from former students, colleagues and researchers with whom he has worked in the past:
'Leonard Blussé is a unique researcher because in addition to thorough knowledge on written and spoken Chinese and Japanese, he also has a remarkable amount of knowledge on the history of the Far East and the historical role of the Dutch in that region. I don't know anyone else who has devoted himself to the study of early Dutch-Japanese relations like Leonard has.' – Pieter Emmer, Professor emeritus History of European expansion and migration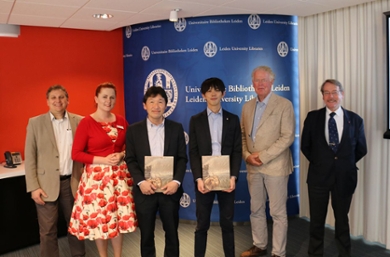 'Blussé is a very productive researcher, with his own authentic perspective. In his research he covers the whole of Southeast Asia and East Asia; he is able to study the developments in Indonesia, China and Japan in relation to each other, obviously on the basis of authentic sources. He is also able to initiate and successfully complete large, international scientific projects.' – Wim Boot, Professor emeritus of Japanese and Korean Languages and Cultures
'With his unbridled energy, creativity and dedication, Leonard has played a crucial role in making accessible in recent decades (since the late 1970s) sources relating to the early modern Dutch-Asian relationship and the historical research on the subject. He has also been extremely good at and decisive in setting up multilateral education and research programmes such as TANAP and ENCOMPASS. With his compelling enthusiasm, he has been training a whole new generation of Asian and Dutch historians since the end of the 1990s, thus giving the discipline an important boost.' – Alicia Schrikker, Senior University Lecturer
'Leonard is a very passionate historian and a diplomatic bridge builder. His dedication, loyalty and care for students, PhD students and fellow colleagues make him an excellent researcher and teacher, but above all a unique person.' – Cátia Antunes, Professor of History of Global Economic Networks
'Prof. Blusse, by setting up the TANAP Project almost two decades ago, created intellectual space for people from the colonised parts of the world to come to The Netherlands and receive training in Dutch (VOC) sources and write histories from their perspectives. He, and the team of scholars who contributed to the success of the project, have demonstrated how one can act in a socially responsible way in order to rewrite histories from multiple perspectives.' – Anjana Singh, University Lecturer (Rijksuniversiteit Groningen)
'I have always been extremely impressed by the tremendously passionate and enthusiastic way in which Leonard Blussé speaks and publishes about his research. He has inspired and motivated many people, including young people, both in East Asia and in the Netherlands, to participate in that research.' – Douwe Breimer, former Rector Magnificus of Leiden University
'Those who take a look at Leonard Blussé's bibliography, could be thunderstruck, not because of the vast amount of publications, but because of the diversity of those. Leonard can be seen as the 'champion of sharing knowledge'. He is a moving force behind some broad academic projects. That also includes the TANAP project, in which Leiden University worked together with other Dutch universities to educate young researchers from South Africa and Asia in using Dutch source material to compare it to their own respective national histories and enrich these with research on VOC sources. Some say that nothing grows under big trees, but Leonard Blussé isn't one of those giants, as he's also a star in educating others – not an easy one, because he demands a lot of those he gives a lot, whether that is in Leiden, in Taiwan, China, or Japan.' – Lodewijk Wagenaar (University of Amsterdam)
'Leonard Blussé is the driving force behind the cooperation between the Netherlands and several other Asian countries in the field of primarily early-modern history. He motivated Asian historians, including Japanese historians, to make use of the valuable VOC-archives in The Hague and Jakarta. He educated many now leading historians which makes the impact of his academic work beyond limits, even today. A true Japan friend who rightfully deserves the prestigious Fukuoka Academic Prize.' – Wim van den Doel, former Dean of the Faculty of Humanities, Leiden University
Ambassador to the Netherlands in Japan, Peter van der Vliet, has invited Leonard Blussé to a dinner at his residence in Tokyo on 19 September to celebrate the conferral of the Fukuoka Prize.
Leonard Blussé (1946) studied Sinology in Leiden and was active as a researcher and lecturer at Leiden University until 2011. He focuses on Southeast-Asian history and the history of Asian-European relations. In 2006, Blussé received the honorary title Knight in the Order of Orange-Nassau for his many contributions to improve and strengthen the (academic) relations and international relations between Europe and Asia.
Main image: © Fukuoka Prize Committee