Leiden through the eyes of seven city photographers
Freemasons, young circus artistes, people at a clothes swap and many more. Seven young anthropologists spent a year exploring Leiden as city photographers. They published their photos in Leidsch Dagblad each week. An exhibition at Oude UB shows the fruits of their labour.
An intimate scene of a man singing in Petruskerk. Builders repairing train tracks at night. A patient at the headache clinic in the LUMC. Or four girls practising on their unicycles. Walk around the hall of Oude UB and you'll see numerous scenes from the everyday lives of young and old from Leiden.
Clothes swap
Each year, the City Photographer Foundation appoints a new photographer for Leiden. Last year, the Foundation chose a new approach: not one but seven photographers. The seven – four anthropology students and three members of staff from the Cultural Anthropology programme – each tackled a different theme. Bachelor's student Lina De Los Rios Torres sought out 'meaningful places.' Lecturer Simone de Boer explored the world of 'community work.' De Boer: 'Through this work, I've got to know Leiden much better. I went to the WijkRuilbus, for instance, a bus where members of the community can swap clothes and other things. And I attended meetings at a community centre, which is also a breeding ground for creative initiatives.'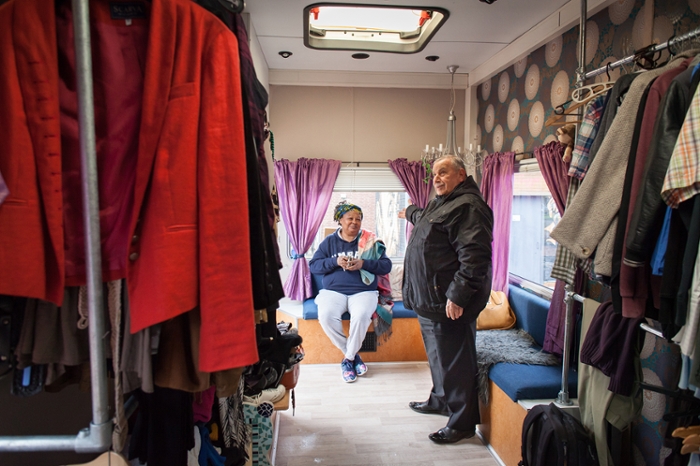 Freemasons
One of the places that De Los Rios Torres visited was the temporary freemasons' lodge in Leiderdorp. Here she saw how the freemasons gave meaning to this new place. 'I was allowed to attend preparations, but not the initiation of new members, for instance.' Nor did the freemasons want to be identifiable in the photos. Despite this, De Los Rios Torres still managed to give a good impression of the meetings.
Fly on the wall
The young photographers combined an anthropological approach – observing like a fly on the wall – with a journalistic one. De Boer: 'We wanted to find out what people really do, so we didn't want to come in and shove our camera in their noses because that's when people pose. Wherever possible, we visited several times, so that they would get to the point where they no longer noticed us.'
De Los Rios Torres adds, 'We also wrote a short piece to accompany the photos. This was of a more journalistic nature.' They took it in turns to fill a large spread in Leidsch Dagblad each week.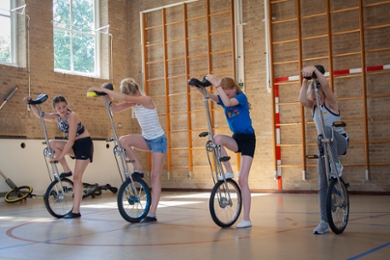 Different interests
Both photographers have learnt a lot from the year. De Los Rios Torres: 'I learnt a great deal about technique alone. For instance, what you need to consider when you take your camera out and about, and have to quickly take decent photos.'
De Boer: 'We wanted to take photos for the newspaper that were visually appealing and also had some depth. Some people also saw their photo as a kind of PR and wanted to be portrayed in a certain way. This meant we had to weigh up different interests. The project definitely gave us a good reason to talk to all sorts of people that we'd not get to talk to otherwise.'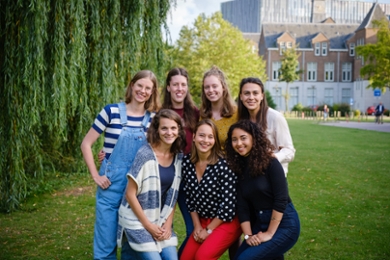 The seven photographers. Back row: Hanna Stalenhoef, Christien van de Pavert, Veronie Rouschop and Jule Forth. Front row: Simone de Boer, Wilke Geurds and Lina De Los Rios Torres.
Photo above article: Jule Forth
Mail the editors