Rapenburg - backdrop for art and knowledge
Street theatre, drama, poetry and a lot of science: Leiden's Rapenburg was the backdrop for the fifth Night of Art and Knowledge on Saturday 16 September. Many University buildings - from the Observatory to the Hortus - opened their doors to artists, scientists and a public curious to know more.
At student association Augustinus, the floor is sticky to say the least. With every step you make you have to tug your shoes free of the floor. This minor inconvenience can be traced back via the smell of spilt beer to the many parties held here for members of Minerva.
This evening the doors of Eigen Huis were wide open, including for non-members - and not just to let some air in. Augustinus was taking part in the Night of Art and Knowledge, an evening combining the best of Leiden science with song, dance, poetry and street theatre. Almost 4,000 visitors took part, streaming along the Rapenburg that had the atmosphere of a travelling cabinet of curiosities. Glimmering, bird-like beings flitted around, monstrous yet somehow still beautiful. And the otherwise so peaceful Hortus botanicus was bathed in a surrealistic bright blue light.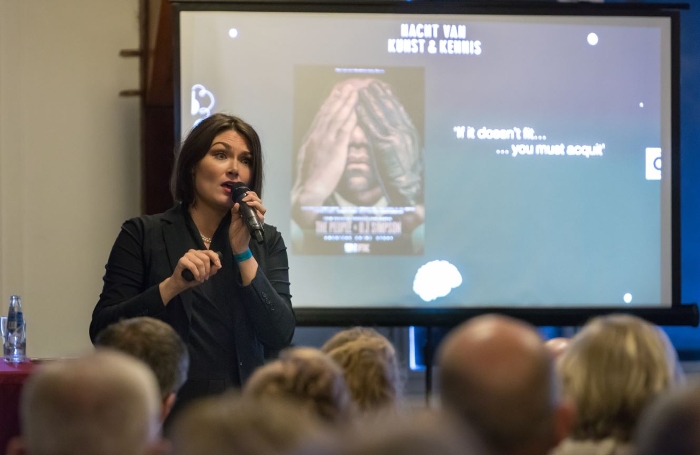 Yordi Dam from Augustinus took to the stage. In a whirlwind presentation, the Rap factchecker dissected some of the most contentious statements made by well-known rappers. Do all teenagers say yes to drugs like MDMA, as Lil' Kleine claims? And does rapper Josbros really have such a bad name that they are kicking him out of the EU in order to save the climate? Of course not. But the way Dam checks their claims using numbers and statistics shows a lot of persistence. The audience were fascinated.
Lucebert and Ramsey Nasr
On the other side of the canal, the back room of the small children's book shop Silvester was full to overflowing. Here the PhD candidates from the Dual PhD Centre presented their findings to the public. Surrounded by books for children of all ages, Saskia Gras talked about the Free Academy in The Hague, an art school where until 1989 there were no evaluations or tests. She showed that, in spite of this very free style of teaching, the academy has produced many highly successful artists. 'It really calls into question the idea that education without assessments is not possible,' was her message.
Halfway along the Rapenburg visitors were treated to poetry on the canal. The young poet with the felt hat started with Lucebert to enthusiastic applause, then switched effortlessly to Ramsey Nasr. A mixture of vernacular Rotterdam and gross street language resounded over the respectable Leiden cobblestones, moving rapidly from dushi to doekoe, so rapidly in fact that even the poet himself stumbled over his words. The public were quick to forgive him, particularly after having just heard that anything that has real value doesn't need defending.
Peanut butter and donor poo
Somebody else who needed no defending iwas Hans, who at 68 is struggling with diabetes. 'This is how we in the Netherlands are getting older,' commented Simon Mooijaart (LUMC), showing his audience a photo of Hans. Mooijaart was standing in the stately Hortus Botanicus, which was also full to overflowing. 'Many older people have health issues. As an example, there are over a million diabetes patients in the Netherlands alone.' In Africa, life expectancy is not as high as here, but older people in Africa are often healthier. Mooijaart's research explores whether Dutch people can grow old and remain in as good health as Kwaku (88) from North Ghana. Mooijaart: 'He works on the land every day and has four wives. So, if you want to stay healthy - work on the land every day!'
For those who had had enough of listening and watching, there were still plenty of other things to do, like processing peanut butter into donor poo, or finding out the colour of bacteria on your skin. And in the Academy Building there were long queues for the handwriting experts from the Language Museum. But, there was a potential drawback: if you let the graphologists analyse your handwriting, they didn't pull any punches. 'You have a hot temper,' they told one visitor, who quickly disappeared into the crowds thronging the Rapenburg.
Dungeons and an elderly female cat
The public were also able to accompany scientists conducting their research. One group went underground with archaeologists, through the basements and dungeons of Gravensteen and Sieboldhuis. Others joined the Squatters Tour led by historian Bart van der Steen and student Merel Snoep. They showed visitors the squatters history of Leiden, a part of the city's history that receives little attention. Even one of the imposing buildings opposite the Academy Building was occupied by squatters for a while. Van der Steen: 'They weren't just leftist activists, but also young families, students and an elderly female cat.'
Somewhere towards the end of this long, turbulent evening along the canal, rapper Brainpower was to be found in the Great Auditorium of the Academy Building. This is what the Night of Art and Knowledge is all about: right at the heart of the University, the man behind 'Dansplaat' gave his views on the vocabulary of rappers and novelists, effectively building a bridge between science and poetry.
And anyone who still wanted more could make their way to Augustinus for a brilliant afterparty that went on into the small hours. That beer-washed floor is made for dancing!
Ilja Pfeijffer performed for alumni
Almost three hundred alumni – from brand-new graduates to babyboomers – visited the Alumni Event prior to the Night of Art and Knowledge. Rector Magnificus Carel Stolker gave the alumni a run-down of the state of their Alma Mater in 2017. He mentioned that the location in The Hague is growing fast. 'But we have to make sure that our students in The Hague can also find their way to Leiden's most popular bar Barrera,' he said with a wink. Author Ilja Leonard Pfeijffer – also an alumnus – read aloud his critical poem 'Academia' , after which he signed his books with many references to his own student time: all in all, a good warm-up for the Night of Art and Knowledge where, just as they had done as students, alumni could stroll along the Rapenburg well into the night.