Research project
Institutions for Conflict Resolution
Institutions for Conflict Resolution in Leiden focuses on how the judiciary is able to prevent and solve problems.
Duration

2019 - 2024

Contact

Funding

Ministry of Education, Culture and Science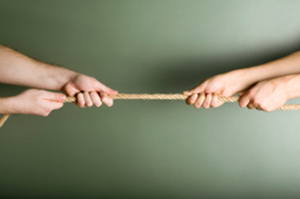 Institutions for Conflict Resolution (COI) is one of the two legal science themes of the Dutch national sector plan for law, the other being Empirical Legal Studies. The project is a joint collaboration between Leiden University, Utrecht University and Radboud University Nijmegen.
Legal proceedings are often time-consuming, costly and stressful. Accessible out-of-court dispute resolution can sometimes offer a good alternative, but having access to reliable and efficient judicial proceedings remains equally important.
In recent years, courts have increasingly become something of a 'society fixer' where the general public and civil-society organisations turn to make their case when they feel other institutions are failing. Controversial issues that have come before the Dutch courts have included climate protection and Sinterklaas' stereotype helper Black Pete, while the Court of Justice of the European Union has ruled on national budgets following the 2007 financial crisis.
Expectations of what the courts can achieve are high, sometimes perhaps too high. There is a risk that in the general public's perception, fundamental principles of law (such as independence and impartiality of judges) are coming under pressure.
COI@Leiden research focuses on two themes: sustainable justice and the courtroom as a social arena.
Sustainable justice
Our aim is to study how the judiciary can best respond to the expectations placed on it to resolve problems. We believe there are three components to an optimally functioning legal system: access, legal protection, and effective conflict resolution. Our findings will be contextualized by comparing them to results achieved by other institutions for conflict resolution.
The courtroom as a social arena
We aim to discover whether the possibilities for litigation need to be amended to reinforce or weaken the function of the courtroom as a social arena. We also aim to investigate (i) what processes lead to socially charged issues coming before the courts; (ii) what role the courts can play in this; and (iii) the consequences for the legitimacy of the courts themselves.
Research projects
European cooperation in asylum law and criminal law is based on mutual trust and mutual recognition. At most, judicial review is carried out on previously administrative decisions. Increasingly, however, politically charged issues are being subjected to judicial review, for example when the protection of fundamental rights in specific Member States can no longer be guaranteed. As a result, the implications of case law in such cases are a lot more far-reaching than the specific case at hand. This project investigates how politically charged questions of law in these areas change the function of the Dublin Regulation and the European Arrest Warrant and what the consequences are for the legitimacy of court decisions by national and European judges.
This project uses insights from social psychology in an innovative way to explain why the legitimacy of the EU is declining among its citizens. Our hypothesis is that the EU is forming a threat to the social identity of citizens and is therefore undermining its own perceived legitimacy among citizens. We aim to study this hypothesis and to subsequently process the insights achieved in EU law in order to reinforce the legitimacy of the EU. This research project contributes to the sector plan by expanding our understanding of legitimacy, using empirical research methods, and translating insights into specific points of reference for the courts.
Article 12 of the Dutch Code of Criminal Procedure offers the possibility for directly interested parties to complain against a decision not to prosecute by the Public Prosecution Service. This procedure is also applied in socially sensitive cases such as the prosecution of Dutch politician Geert Wilders for inciting hatred. Article 12 of the Dutch Code of Criminal Procedure was originally intended as a corrective mechanism on the prosecution monopoly of the Public Prosecution Service. However, later the private interests of applicants and victims gained a more central place. Now it seems to have taken on a third function: as a release valve for social discontent. In this research project, media analysis, case studies and a normative analysis are conducted to examine what contribution Article 12 of the Dutch Code of Criminal Procedure offers and could offer in solving the social conflicts that underlie these cases.
Cases of domestic violence involving children often involve fragmentation of legal procedures. This makes it difficult for courts to take decisions that protect the child from a repeat offence and prevent secondary victimisation. This study examines how these adverse outcomes can be avoided. The theory of therapeutic jurisprudence is guiding in this research project. According to this theory, legal subjects can experience both positive and negative consequences of the law in action. These consequences are studied by applying the theories of procedural and interactional justice and various methods of empirical legal research.
Multinationals sometimes appear to be elusive when it comes to enforcement by regular courts, both in criminal law and in private law. Enforcement often encounters conflicts concerning competence, restrictions in the range of available sanctions or excessive consequences of a sanction. This leads not only to negative public reactions, but is also detrimental to the legitimacy and effectiveness of the government judicial system. Solutions are found in settlements (with the Public Prosecution Service and in the private context) and arbitration. But are these desirable solutions? Or are there other possible solutions that could help the regular courts to involve multinationals? This research searches for answers from the areas of criminal law and private law, and finds inspiration in criminology and economy.
Artificial intelligence (AI) offers promising opportunities to enhance the problem-solving capability of courts, but it can also have a disruptive effect. This proposal examines the existing landscape of AI tools within administrative legal protection and analyses their impact on the development of the conflict and conflict resolution. This analysis leads to the formation of a theory on the impact of AI on access to justice, legal protection and effective conflict resolution. The research provides insights into how and under what conditions AI can enable citizens to resolve their dispute with the public authorities in a sustainable way.
This research deals with the constitutional basic principles of the Dutch system of legal protection against public authorities. This system is currently under pressure: in cases like the carbon dioxide emissions problem and the child benefits scandal, more and more is expected of the administrative courts in providing solutions to broad social issues as well as giving tailor-made decisions in individual cases. Developing the system to make it future-proof requires an integral approach to possible adjustments to procedural law (such as appeals against rules) and the constitutional position of the courts. This research aims to better understand the institutional design of the Dutch system and to develop it by comparisons with three countries: The United States, Germany and South Africa.
Adequate and efficient remediation is required in cases of human rights violations by companies. Women clearly benefit from remediation since they are disproportionally affected by business activities (including feminization of irregular labour and reinforcement of discrimination by gender neutral trade agreements). The 2019 Gender Directive from the United Nations Working Group for Businesses and Human Rights argues that remediation must be responsive to gender issues in order to change 'patriarchal norms and unequal power relations'. However, it is not clear what this involves. This postdoctoral research project will therefore examine the indicators and the quality of gender responsiveness in remediation in disputes involving business and human rights. The research outcomes can help adjudicators identify gender blindness and bias in such disputes.
Nissen was awarded a postdoctoral grant from the FWO for the first part of this research project and a 'chargé de recherches' grant from FNRS for the second part of this research.
Resource conflicts around the world have become more frequent and intractable in recent decades, serving as a battleground over the appropriate balance between economic priorities and environmental and human rights concerns. Meanwhile, there has been a global surge of initiatives to promote environmental justice, including international recognition of the right to a healthy environment, and constitutional reform to protect the right at national levels. Constitutionalisation may be essential to reframing our normative conceptions of law, nature, power and rights. However, it also has implications for those who are directly impacted by development. How can constitutional environmental rights contribute to the effective or equitable resolution of socio-environmental conflicts? What can be learned from experiences in different jurisdictions, such as Canada, Argentina, Chile or Costa Rica? Do international trade and investment regimes limit domestic constitutional protection, particularly where resource projects are concerned? This research may provide insights into the constitutional frameworks that are best suited to meet the challenge of complex socio-environmental conflicts.
Environmental offending that is not properly addressed can easily contribute to social conflicts, for example with people living in close proximity to pollution caused by corporations that violate environmental norms. Sanctions are a well-established means of addressing environmental harm caused by corporate actors. However, improving accountability and enforcement remains an ongoing challenge. This research examines the potential role of perceived procedural justice in improving the compliance of corporate actors with environmental norms. While the severity of sanctions is one motivator of compliance, it is also possible that if corporate actors perceive the law to be legitimate, they might be more likely to comply. Is it possible to increase perceptions of legitimacy by fostering perceived procedural justice when enforcing environmental norms? And does this improve compliance and reduce socio-environmental conflicts? These are among the questions this empirical legal research aims to address.
Related research projects
The population of the Criminal Justice System is known for its high proportion of mental health problems, while the CJS often has limited options to provide the needed care and treatment to face those problems. Besides that, the label 'mentally ill' seems more applicable in the case of severe mental health issues than 'criminal'. Therefore, placement within the regular Mental Health System is sometimes preferable in these cases. The Dutch legislator created a new article of law that gives the criminal court the opportunity to realize placement in MHS through a civil court authorization for mandated mental health care. This research will look at this article from a diversion-perspective and will examine how it is put into practice.
As a result of measures to combat the coronavirus, many court proceedings were unable to proceed. The most urgent cases were held virtually, which led to innovations in digital communication which can provide lessons for the future. The research analyses the issues that have arisen during the coronacrisis in relation to the justice system in the Netherlands, the measures taken and the impact of these on the fundamental rights of vulnerable litigants, in particular, and their faith in the justice system. It aims to contribute to the further development of the institution of the justice system, and to reinforcing the fundamental rights of these vulnerable litigants in times of crisis and beyond.
The research is financed by a research grant from the Covid-19 programme of ZonMw, the Dutch organisation for research into health care, and is carried out by Leiden University, Utrecht University, and Radboud University Nijmegen. More information can be found here and here.
Internet platforms fulfil a central role in what the European Commission and the WHO recently have labeled the Covid-19 'infodemic'. After the outbreak of the pandemic, these internationally active platforms like YouTube and Twitter have rapidly drafted rules on what is and what is not allowed when posting content on Covid-19. They have also taken action against Dutch users based on these rules. Within one year, at least four procedures regarding the application of rules on disinformation have been instigated before judges hearing provisional relief proceedings. The academic literature is increasingly paying attention to the establishment of non-state norms on internet platforms and to the way in which conflicts about and between these norms are being solved. The Covid-19 pandemic provides an impulse for the development of norms on disinformation, especially in relation to public health. Do we see convergence of norms between online platforms? How can this convergence of norms be explained? Is this convergence of norms desirable? And what role does the state play in this regard? These questions are the central focus of this research project.

This project is part of 'Conflict resolution in an era of COVID-19' under the program of the Dutch Research Agenda small projects for NWA routes. Click here and here for more information.
Activities and events
COI@Leiden organises activities and events throughout the year. These include a monthly seminar series on topics relating to conflict resolution and PhD labs to assist COI students in developing their research skills. In addition, COI@Leiden will be hosting a two-day international conference in July 2022, in collaboration with Utrecht University and Radboud University Nijmegen. Details for each of these can be found below.
Conflict Resolution Seminars @Leiden is a monthly seminar series for researchers interested in institutions for conflict resolution. The research seminars are intended to explore judicial approaches to resolving difficult and contentious societal problems, ranging from climate protection to race relations. Judicial decision-making at the local, national and supranational levels, as well as alternative dispute resolution approaches, are considered.
These seminars are intended to bring together academics from various disciplines across Leiden University to share ideas and collaborate on mechanisms and strategies that best promote effective and inclusive conflict resolution. The sessions are delivered in a hybrid format (online and in-person, where feasible). If you are interested in becoming a presenter, please contact Asmaa Khadim at a.n.khadim@law.leidenuniv.nl.
On a monthly basis, PhD students connected to COI@Leiden participate in PhD Labs to present their research and receive feedback from others. Special editions of these labs also take place twice a year: a Winter Skills Lab in which students learn skills that are relevant to conducting (empirical) research on institutions for conflict resolution, and an overarching Summer Lab during which all COI PhDs present their research and receive feedback from each other as well as senior researchers. The PhD Labs are conducted internally and are not open to the public.
On July 8 and 9, 2022, Leiden University will be hosting the second conference of the research group on Institutions for Conflict Resolution (Conflictoplossende Instituties), in collaboration with Radboud University Nijmegen and Utrecht University. The theme of this year's conference is Courts as an Arena for Societal Change. The conference will bring together researchers and practitioners from around the world to discuss the evolving role of the judiciary in addressing difficult and contentious social and political issues.
The conference is featured as part of events taking place during Leiden European City of Science 2022. It is intended to proceed in-person at Leiden Law School. However, there is a contingency plan in place to host it online or in a hybrid format, in the event that COVID-19 restrictions are imposed during that time of year. Please check the conference website for updates.
Publications
Ansems L.F.M. (22 februari 2022), De Tata saga: Weer een milieukwestie op het bordje van de rechter?. Leiden Law Blog [blog entry]

Nissen A.M.H. (2020), Beyond the Western 'Business and Human Rights' Tunnel Vision,

European Review of Public Law

32(4): 1427-1459

Nissen A.M.H. (2021), Kenyan Vulnerable Workers' Access to Justice: a Case Study,

Labour & Law Issues

7(2): C.21-C.46

Nissen A.M.H. (2021), Meer dan 200 Samsung-arbeiders Ziek of Dood door Blootstelling aan Toxische Chemicaliën: Wie Klacht Indient Verliest haar Job,

EOS Magazine

2021(1): 60-65

Ansems, L. F. M. (2021). Procedural justice on trial: A critical test of perceived procedural justice from the perspective of criminal defendants. Dissertatie, Universiteit Utrecht.
Ansems, L. (2019). Naar een geïntegreerde aanpak van huiselijk geweld: Trans-Atlantische inzichten en een Rotterdamse pilot. Nederlands Juristenblad, 27, 1939-1945.
Ansems, L. F. M., Van den Bos, K., & Mak, E. (2020). Speaking of justice: A qualitative interview study on perceived procedural justice among defendants in Dutch criminal cases. Law and Society Review, 54, 643-679.

Bedner, A. (2017). Ombudspersons in developing countries: the case of Indonesia. In M. Hertogh, & R. Kirkham (Eds.), Research Handbook on the Ombudsman (Research Handbooks in Law and Politics, p. 167-187). Cheltenham: Edward Elgar Publishing.

Bedner, A., & Herlambang, W. (2019). The Administrative Courts: The Quest for Consistency. In M. Crouch (Ed.), The politics of court reform: Judicial change and legal culture in Indonesia (p. 133-148). Cambridge: Cambridge University Press.

Bruning, M., & Pieters, I. (2021). De kinderrechter in jeugdbeschermingszaken. In M. Dubelaar, L. Glas, A. Terlouw, & M. ter Voert (Eds.), Conflictoplossing: het domein van rechters? Een vergelijkende studie naar rechterlijke en alternatieve conflictoplossing in verschillende rechtsgebieden (pp. 153-175). Deventer: Wolters Kluwer.

Crijns, J. H. (2020). Rechterlijke toetsing van hoge transacties in strafzaken: Contracteren onder toezicht. In C. G. Breedveld-de Voogd, A. G. Castermans, H. B. Krans, & A. Wissink (Eds.), Sluitertijd – Reflecties op het werk van Jaap Hijma (pp. 389-403).

Deventer: Wolters Kluwer.

Crijns, J., & Kool, R. (2021). Buitengerechtelijke conflictoplossing in het strafrecht. In M. Dubelaar, L. Glas, A. Terlouw, & M. ter Voert (Eds.), Conflictoplossing: het domein van rechters? Een vergelijkende studie naar rechterlijke en alternatieve conflictoplossing in verschillende rechtsgebieden (pp. 227-253). Deventer: Wolters Kluwer.

De Gier, N., Kox, M., Boone, M., & Vanderveen, G. (2021). 'Ik verblijf in een gevangenis, daar is niets moreels aan.' Ervaren procedurele rechtvaardigheid bij binnenkomst in vreemdelingenbewaring. Crimmigratie & Recht, 4, 101-120.

Esser, J.E., & Schuurmans, Y.E. (2021). Gedeelde tafel, eigen stoel: Rechter en rechtsvorming in het bestuursrecht (preadvies Staatsrechtkring).

Hartendorp, R. C. (2020). Naar m(e)er rechtspraak?

Oratie, Universiteit Leiden.

Hartendorp, R. C. (2020). Opschietende paddenstoelen en buurtrechtspraak.

Ars Aequi, 69

(6), 544-548.

Hartendorp, R. C. (2020). De opkomst van buurtrechtspraak: Legitimiteit, vertrouwen en gezag.

Beslag, Executie & Rechtsvordering in de praktijk, 10

(4), 15-19.

Hartendorp, R. C. (2020). De schuldenrechter: Probleemoplossende rechtspraak en problematische schulden. Beslag, Executie & Rechtsvordering in de praktijk, 10

(5)

, 12-15.

Hartendorp, R. C. (2020). Scheiden zonder (rechts)strijd: De-escalerende rechtspraak in geëscaleerde conflicten. Beslag, Executie & Rechtsvordering in de praktijk, 10

(7)

, 17-21.

Hartendorp, R. C. (2020). Maatschappelijk effectieve rechtspraak: Een synthese. Recht der Werkelijkheid, 41(2), 61-66.

Hartendorp, R. C. (2020). De rechter als evenwichtskunstenaar. In R. de Bock, R. Klomp, & Schaafsma-Beversluis (Eds.), Voor Daan Asser. Procesrechtelijke desiderata ter gelegenheid van zijn 75ste verjaardag (pp. 123-129). Deventer: Wolters Kluwer.

Hartendorp, R., & Van der Kraats, K. (2021). Verschoven panelen: Digitale geschilbeslechting en rechterlijke conflictoplossing in civiele zaken. In M. Dubelaar, L. Glas, A. Terlouw, & M. ter Voert (Eds.), Conflictoplossing: het domein van rechters? Een vergelijkende studie naar rechterlijke en alternatieve conflictoplossing in verschillende rechtsgebieden (pp. 37-60). Deventer: Wolters Kluwer.

Khadim, A. (2018). Section 35 aboriginal rights: Evolving understandings in a changing world of consultation duties. Australasian Canadian Studies, 35.

Khadim, A. (2016). Defending glaciers in Argentina. Peace Review, 28, 65-75.

Koenraadt, R. M., Boone, M. M., Rap, S. E., & Kappert, S. (2020). Financieel toezicht binnen het (jeugd)strafrecht: Een onderzoek naar het verloop, de resultaten en mogelijke uitbreiding van verplicht financieel toezicht binnen het (jeugd)strafrecht (projectnummer 3103). Den Haag: Wetenschappelijk Onderzoek- en Documentatie Centrum.

Nissen, A. M. H. (2020). Business and human rights: Remediation through a gender lens

. Weblog In the Long Run. Cambridge: Department of Politics and International Studies (POLIS), University of Cambridge.

Ouwehand, I.S., & Schuurmans, Y.E. (2021). Deskundige toetsing door de bestuursrechter. In R. Schutgens e.a. (Eds.), Toetsingsintensiteit (pp. 127-149).

Schuurmans, Y. E. (2021). Procesrechtelijke lessen uit de Toeslagenaffaire. NJB, 37, 3104-3106.

Van 't Zand, E., & Boone, M. (2021). Kritisch zelfonderzoek naar de bestuursrechtspraak inzake de Verklaring Omtrent het Gedrag: Op zoek naar de menselijke maat. Nederlands Juristenblad, 24, 1963-1967.