Alumni event
Leiden did not forget you
Date

Friday 16 June 2023

Time

Series

Location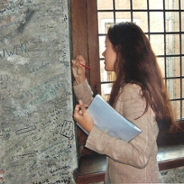 Did you graduate during the COVID-19 pandemic, between March 2020 and April 2022? This period was not the most fun time to be a student, let alone to graduate from university. Your graduation may even have taken place in the middle of a lockdown, with your diploma sent to you by post. In that case, you probably also missed out on the wonderful Leiden tradition of immortalising your name in the Sweat Room.
We would like to make this up to you on 26 May, 2, 9 and 16 June.
Opportunity to sign your name
For everyone who missed out on having a graduation ceremony, and therefore did not have the chance to sign their name in the Sweat Room, we are organising four special 'Sign your name days' in late spring. On these dates you are invited to the Academy Building, where you will have the opportunity to inscribe your name on the wall of the Sweat Room. A photographer will be there to capture this memorable moment. You will also receive a voucher for a free cup of coffee or tea in the Hortus restaurant, and a discount voucher for the University Shop and for a boat tour through Leiden. We hope this will be a fitting, albeit slightly delayed, finale to your studies in Leiden. Be sure to you ask your former fellow students if they have also received this invitation so that you can make a day of it together!
Choose your time slot
To make sure everything runs smoothly, we have scheduled three time slots for which you can register. You may bring one guest with you (please indicate this on page 2 of the registration form). There is a maximum number of visitors per time slot, so be sure to sign up quickly. Spots will be allocated on a first-come, first-served basis!
Friday 16 June
• 09.00 – 11.00 hrs
• 11.15 - 13.15 hrs
• 13.30 - 15.30 hrs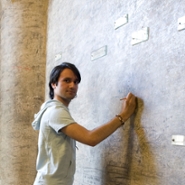 Within this time slot, you can choose what time you want to arrive at the Academy Building. Bear in mind that it might be busy, so you may have to wait to sign your name. If this is the case, feel free to have a cup of coffee or tea in the Hortus first, or browse around the University Shop.
You can register using the link below.
We look forward to welcoming you in Leiden on 16 June!
Check the overview page for more dates.