North American Studies (MA)
Taking an integrated, multidisciplinary approach to the study of the United States, the master's in North American Studies at Leiden University focuses on key areas in American history, culture, and literature, with special attention to the influence of the past on contemporary social, political and cultural developments.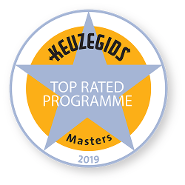 In the Keuzegids 2019, the Leiden North American Studies programme is ranked as one of the top-rated master's programmes in the Netherlands

.
The MA programme in North American Studies has received the label 'top programme' in the Keuzegids Masters of March 2019. This ranking is based on the opinion of students (through the National Student Survey) and academic experts (NVAO).
Why study North American Studies at Leiden University?
While the programme focuses on the U.S., you will also explore the role the U.S. plays in the region and in the world, as well as the impact of the region and the world on developments in the U.S. The key areas and major issues in the history, politics, literature and culture of the U.S. that the programme explores in-depth include:
Slavery, migration, and emancipation movements;

The history and politics of international relations and human rights;

Immigration and ethnicity;

Identity and memory politics.
More reasons to study North American Studies in Leiden
Internship or study abroad
An important aspect of the programme is learning how to conduct independent multidisciplinary research, comprehend and apply theoretical insights, learn about and engage with scholarly debates, and take a critical approach to all materials. Critical reflection on U.S. exceptionalism is a recurrent topic throughout the programme. Students are encouraged to do an an internship (for example at the Roosevelt Institute of American Studies at Middelburg). Opportunities are available for study at a university in the U.S. or Canada.
Learn more about the study programme
Learn from acclaimed researchers
During your studies you will learn alongside talented and highly-motivated students in an international classroom setting. Classes are kept relatively small to allow for a high level of interaction with your instructors, all of whom are internationally acclaimed researchers in the field of American Studies.
North American Studies degree
North American Studies at Leiden University is an accredited degree programme. After successful completion of this programme, you will receive a master's degree in North American Studies and the title Master of Arts (MA).