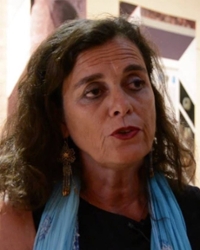 Corinne Hofman
Professor of Caribbean Archaeology
Name

Prof.dr. C.L. Hofman

Telephone

E-mail

ORCID iD
Corinne Hofman is professor of Caribbean Archaeology at the Leiden Faculty of Archaeology and the KITLV.
Office days
Corinne Hofman is present at the Faculty of Archaeology on Mondays.
Research
I am a professor of Caribbean archaeology with a focus on the Indigenous history and traditional knowledge practices of the region.
The indigenous Amerindian past of the Caribbean region is hidden in a vulnerable soil, which is under constant threat of natural disasters, climate change, looting and illegal trade, economic pressures, tourist development, and a lack of heritage awareness. Insufficient effective legislation for the protection of heritage in many of the islands leads to the destruction of archaeological heritage and the loss of knowledge about a crucial episode in global history: the unwritten history of the Indigenous inhabitants, whose descendants were the first to come eye to eye with European colonizers in the America's.
Until recently, the transformations and responses of Indigenous societies to changing natural, cultural, social, economic, and political environments triggered by European invasion and colonialism were largely unknown. The study of the Caribbean archaeological record and the transdisciplinary research conducted by the ERC-Synergy project NEXUS1492 (2013-2019) has provided fresh insights into these infamous histories by uncovering the Indigenous perspectives hitherto overshadowed by dominant Eurocentric viewpoints. The CaribTRAILS project, continues on this important work at the KITLV.
Through comparative research with regions that have similar colonial histories, CaribTRAILS aims to place Indigenous Caribbean history in a global perspective. The project thereby aims to contribute to the debate on decolonization practices; human rights of Indigenous peoples and the social adaptation to climate change; the confrontation between ethnic groups, cultures, and religions; and issues related to changing social relations, inter-cultural dialogue, social cohesion, and diversity in an increasingly globalized world.
I am also one of two local organizers ("champions") for the upcoming edition of EuroScience Open Forum, to be hosted in Leiden in summer 2022.

Teaching activities
Courses on colonialism, globalization, and decolonization of academic thinking; BA, MA, and RMA thesis supervision in subjects related to Caribbean archaeology; weekly seminar Communicating Communities to discuss the current themes in archaeology and heritage of Indigenous peoples.
Curriculum vitae
Corinne Hofman was Vice-Dean of the Faculty of Archaeology from 2007 to 2013, and Dean from 2013 to September 2018. She is professor of Caribbean archaeology with a focus on Indigenous history and traditional knowledge practices of the region. Between 2013 and 2019 she was Corresponding Principal Investigator of the ERC-Synergy project NEXUS1492, together with PI's Prof. dr. G. Davies and Prof. dr. U. Brandes. From September 2019, Corinne directs the CaribTRAILS project based at the KITLV. She is also co-Applicant of the NWO Island(er)s at the Helm project at KITLV.
Professor of Caribbean Archaeology
Faculteit Archeologie
World Archaeology
Caribbean and Amazonia
Work address
Van Steenis
Einsteinweg 2
2333 CC Leiden
Room number B2.03
Contact
Principal Investigator CaribTRAILS
Gelieerde instellingen
Kon Inst Taal-, Land en Volkenkunde
Work address
Reuvens
Reuvensplaats 3-4
2311 BE Leiden
Room number 142
Contact