Fourteen women professors take over the Senate Chamber
Fourteen women professors are to be given a place in the classic portrait gallery in Leiden University's Senate Chamber. The portraits will be unveiled on 8 March – International Women's Day – by former Minister of Education, Culture and Science Jet Bussemaker and Rector Magnificus Carel Stolker.
Until now, of the 118 professors whose portraits have been hanging in the Senate Room, there was just one woman: Sophia Antoniadis. High time that was changed, was the feeling of the Executive Board. The new portraits are a continuation of the Athena's Angels initiative in March 2016: for a month long only photo portraits of female professors were exhibited in the Senate Chamber. With this initiative, the Angels – Professors Eveline Crone, Naomi Ellemers, Judi Mesman and Ineke Sluiter – wanted to call attention, literally and figuratively, to women in academia. The Executive Board embraced the action and also felt the time had come for a structural change.
Reflection of the university's history
The classic portrait gallery of Leiden's most eminent academics has so far been a male stronghold, and there are a number of reasons for this. The portraits had to be a reflection of more than four centuries of university history and the first female professor, Sophia Antoniadis, only appeared in 1929. Not only this, they had to be painted by a reputable artist and they only gained a place in the gallery after their death.
Break with tradition
But this tradition has now been broken. The fourteen women professors (some emeriti) are all still very much alive. They were nominated by the seven deans of Leiden University for the pioneering research they have all conducted in their field. They are: archaeologist Corrie Bakels, child and adolescent education specialist Ina van Berckelaer-Onnes, neuropsychologist Eveline Crone, astrophysicist Ewine van Dishoeck, social-psychologist Naomi Ellemers, art historian Willemijn Fock (her portrait will be hung in the Senate Room later this year), transplantation biologist Els Goulmy (LUMC), archaeologist Corinne Hofman, Arabist Remke Kruk, historian Nicolette Mout, development biologist Christine Mummery (LUMC), literary scholar Mineke Schipper de Leeuw, classicist Ineke Sluiter and religious scholar Ernestine van der Wall.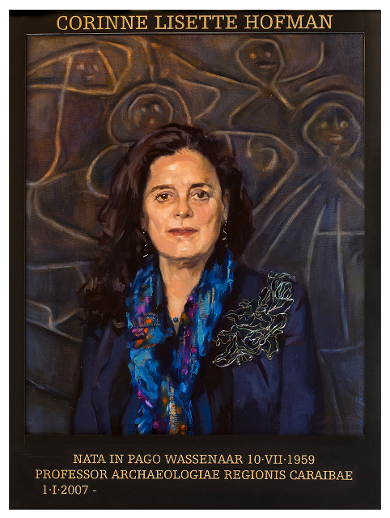 Accomplished artists
The professors selected could themselves choose who would paint their portrait. The artists all have an eminent reputation: Bart Holt (Goulmy), Frank Leenhouts (Mummery), Ineke Pijn (Van der Wall), Joanna Quispel (Schipper de Leeuw), Adolfo Ramon (Kruk), Carla Rodenberg (Berckelaer-Onnes, Van Dishoeck), Roderik van Schaardenburg (Bakels), Fred Schley (Crone en Sluiter), Viktoryia Shydlouskaya (Ellemers), Eva de Visser (Hofman), Anju van Wersch (Fock), Sylvia Willink (Mout).
Programme 8 March
The opening ceremony on 8 March will be performed by former Minister of Education, Culture and Science Jet Bussemaker and Rector Magnificus and President of the Executive Board Carel Stolker. Literary scholar Mineke Schipper will then give an address on 'A learned woman is a lost woman'. Her book Trouw nooit een vrouw met grote voeten (Never marry a woman with big feet, 2004), on sayings about women in more than 240 languages became a bestseller worldwide and has since been published in 18 different countries.
Selection of 14 male portraits
The limited space in the Senate Chamber means that in practice for every new portrait an old one has to leave the Chamber. University Willem Otterspeer selected the fourteen male professors, evenly distributed over the faculties, that were to be removed. His selection criteria were the name and reputation of the professor, the quality of the painting and whether there were any portraits of the professor elsewhere in the university. The possibility is currently being explored of giving the portraits a new location, possibly temporary, elsewhere in the university, in the faculty chambers or other rooms in the Academy Building. Until then, the fourteen portraits will be stored carefully in the university's depository.
In 2017, female professors at Leiden University (including LUMC) represented above 26 per cent of the total number of professors. Of those who obtain their PhD in Leiden, 46 per cent are female, and of our senior lecturers 38 per cent are female.