Minister Plasterk opens exhibition on the work of Corinne Hofman and Menno Hoogland on Saba
During his visit to the Caribbean part of the Kingdom, Minister Ronald Plasterk (Home Affairs) on Thursday, January 24, 2013 performed the official opening of a small exhibition. The exhibition portrays the work Prof. Dr. Corinne Hofman and Dr. Menno Hoogland have conducted on Saba over the past 26 years.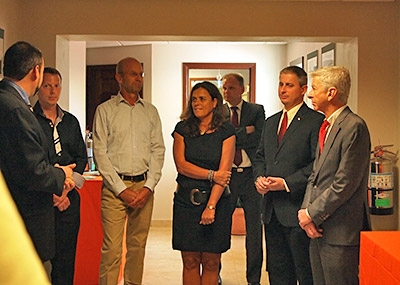 The exhibition consists of Indian artifacts exhibited in the government building The Bottom. Eventually, the exhibition will become part of a larger permanent exhibition about both prehistoric and historic archaeology of Saba.

Other attendants were Governor Jonathan Johnson, Commissioner Chris Johnson, Leiden PhD student Ryan Espersen (EURO TAST project), and a group of Leiden students who are currently carrying out fieldwork on the island of Saba.

Commissioner Johnson expressed the intention to establish a Heritage Center focused on the cultural heritage of Saba from the first settlement of the island (3,500 years ago).