Exhibition: Unity and Diversity in the Amerindian Caribbean
The exhibition Unity and Diversity in the Amerindian Caribbean: The El Cabo San Rafael Archaeological Site has been officially opened by Prof. dr. Corinne Hofman on Tuesday evening in Santo Domingo.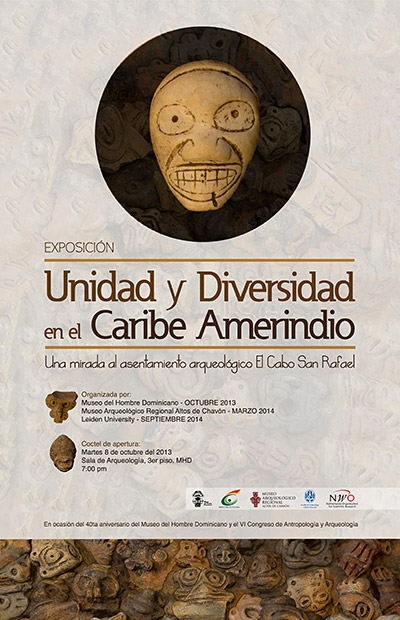 The opening was attended by the Dutch Ambassador to the Dominican republic Ms. M.A. van Drunen Littel. The exhibition presents the results of the excavations and analyses of the site of El Cabo in the southeastern Dominican Republic.

Research at El Cabo was undertaken by Leiden University under the direction of Dr. Menno Hoogland and Prof. dr. Corinne Hofman, in collaboration with the Museo del Hombre Dominicano between 2005-2008 and financed by the Netherlands Organisation for Scientific Research (NWO, project Houses for the living and the dead).

Extensive archaeological excavations and surveys were conducted using the most advanced techniques. The research extended into the social and ritual landscape surrounding the settlement by recording caves and cenotes (features that were important for access to fresh water). Different phases of occupation were recognized at the site dating between AD 600 and 1500 representing the Indigenous communities that inhabited the Greater Antilles during the Late Ceramic Age and encounters with the Europeans.

The excavations at El Cabo revealed approximately two thousands postholes within a 1000 m2 trench. The exceptional preservation of the postholes, cut directly into the limestone, allowed for the identification of more than fifty structures, thirty of which were interpreted as houses (PhD thesis Alice Samson 'Renewing the house").

Investigations at El Cabo has also shown that human mobility and the exchange of people, goods and ideas was constant and sustained, evidencing how important continual communication was for pre-colonial and early colonial Indigenous Caribbean communities and highlighting the region's dynamism.
Many Leiden BA and MA theses as well as PhD dissertations have been based on materials from El Cabo.

The exposition is expected to move to Leiden in September 2014 for the opening of the new Faculty Van Steenis Building.