Leiden University Centre for Linguistics
Organisation
Leiden University Centre for Linguistics (LUCL) is an independent institute within the Leiden University Humanities Faculty. A Management Team, consisting of an Academic/Scientific Director, a Director of Education and an Institute Manager, is responsible for the overall running of the institute. This team is supported in its daily activities by staff of the LUCL Office. An Advisory Council provides the Management Team with advice on all institutional matters. Two separate councils complete the institute's organisational structure; the PhD Council representing LUCL's PhD candidates and an Institute Council acting on behalf of all LUCL (academic) staff members.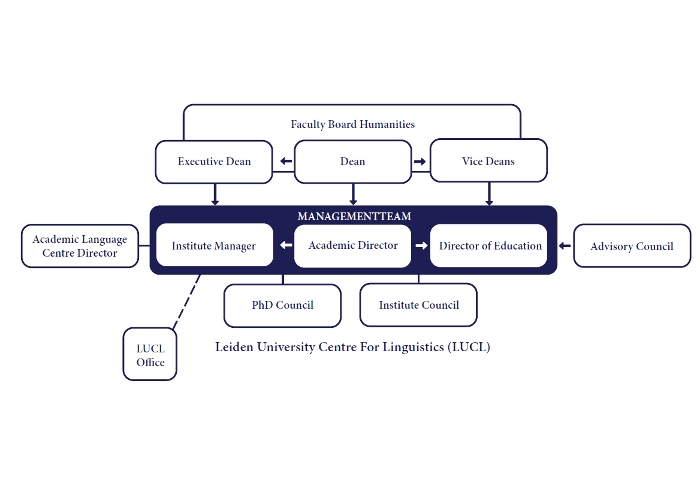 Management Team
The LUCL Management Team consists of an Academic Director, a Director of Education and an Institute Manager. LUCL's Academic/Scientific Director, Lisa Cheng, carries the overall responsibility for the institute. All LUCL's teaching activities are the responsibility of the LUCL Director of Education, Tijmen Pronk. The LUCL Institute Manager, Maarit van Gammeren, is tasked with LUCL's operational affairs, including finance, personnel issues and the institute's internal management.
Advisory Council
The LUCL Advisory Council advises the Management Team on any institutional issues concerning LUCL. It consists of members appointed by the Faculty Board of the Leiden University Humanities Faculty. Current members are: Alwin Kloekhorst (Chair), Claartje Levelt, Sjef Barbiers, Rik van Gijn, Anikó Lipták, Susana Valdez, Jenny Audring, Vicky Alcalde, Maarten Bogaards, Gea Hakker and Michaël Peyrot.
PhD Council
The LUCL PhD Council represents all PhD candidates at the institute. It meets regularly with the LUCL Management Team and also has a representative seated on the LUCL Advisory Board. The Council aims to stay informed about general university developments as well as specific LUCL issues concerning LUCL-affiliated PhD candidates. Its current members are: Bente De Graeve, Hester Groot, Turan Hanci, Olga Nozdracheva, Priscilla Lam, and Wenwei (Charlie) Xu. The PhD Council can be reached via luclphdcouncil@hum.leidenuniv.nl.