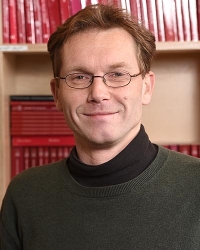 Tijmen Pronk
Assistant professor
Name

Dr. T.C. Pronk

Telephone

E-mail

ORCID iD
Tijmen Pronk is Assistant Professor and Director of Education at the Leiden University Centre for Linguistics.
Research
My current research focusses on the reconstruction of the vocabulary, phonology and morphology of Proto-Indo-European. Most of my publications concern the Balto-Slavic language family, especially Slavic languages, but I have also published about other branches of Indo-European. I am co-author of the Croatian Etymological Dictionary (2016, 2021) and of the Indo-European Etymological Dictionary (ongoing project). My work on the Croatian Etymological Dictionary allowed me to combine my interest in comparative linguistics with that in South Slavic dialectology, about which I have published a number of articles and a monograph.
Teaching activities
I teach courses about Comparative Indo-European Linguistics and Slavic and Baltic languages in the BA and MA Linguistics at Leiden University and at the Leiden Summer School in Languages and Linguistics. Together with two assistants I have created the Massive Open Online Course "Introduction to Comparative Indo-European Linguistics", which is available at coursera.org and futurelearn.com.
Curriculum vitae
I studied Slavic languages and literature (MA 2002) and Comparative Indo-European linguistics (MA 2004) at Leiden University, where I also defended my dissertation "The Slovene dialect of Potschach in the Gailtal, Austria" (PhD 2009). I have been employed at Leiden University from 2003 till 2009 to do research into South Slavic dialectology and Indo-European etymology and to teach courses at undergraduate and graduate level at the Slavic and Indo-European departments. From 2010 till 2014 I was a researcher at the department for etymology and onomastics of the Institute of Croatian language and linguistics. During this period I taught courses at the Universities of Zagreb and Zadar and in the doctoral programme of the University of Rijeka. Since 2015 I have been assistant professor at the Leiden University Centre of Linguistics, of which I am the Director of Education as of 2023.
Assistant professor
Faculty of Humanities
Leiden Univ Centre for Linguistics
LUCL VIET
Work address
Reuvens
Reuvensplaats 3-4
2311 BE Leiden
Room number 1.59
Contact
No relevant ancillary activities