Multilingualism in young children is a good thing: 'Languages support each other'
During Leiden City of Science 2022, Janet Grijzenhout and Hannah De Mulder will put multilingualism in the spotlight by organising multilingual storytelling afternoons. They hope to show parents that raising children multilingually is achievable as well as beneficial.
Although Janet Grijzenhout and Hannah De Mulder work in different research fields (Grijzenhout is a phonologist and De Mulder is a psycholinguist) they have a shared interest in multilingualism, especially regarding children. The idea for the project 'A Tale in Two Tongues' was born out of this shared interest. 'Learning to read and write is one thing, but listening and being exposed to varied input from different speakers is also important,' explains Grijzenhout. 'Besides, children like to listen to stories, so it is a good way for them to engage with language.'
De Mulder adds: 'Research shows that the kind of language that is used in children's books is much richer than the language children hear in everyday conversations. Moreover, reading aloud is very beneficial for social development.' She sums up: 'Storytelling is fun, languages are fun and multilingualism is fun!'
Leiden: A linguistically diverse city
Multilingualism is more common than you might initially think. In fact, Leiden can also be considered a very linguistically diverse city. 'People are usually aware of this when they think about Amsterdam and The Hague, but it also applies to Leiden,' says Grijzenhout.
More attention for languages spoken at home
However, the outside world is not always so positive about multilingualism, as De Mulder has witnessed first-hand. 'I was raised multilingually in English and Dutch, which everyone always considered to be a good thing. But there are also languages that are not seen in such a positive light. During the time that I collected data for my PhD research at elementary schools in Rotterdam, I discovered that the use of other languages is not always encouraged. I had picked up a couple of Turkish words and used them to greet a young Turkish-speaking girl. Her reaction was one of shock, and she warned me that it was not allowed to use Turkish at school. The school probably did not mean it like that, but in this way they sent out the message that her home language had no place at school. Through our project we want to show that languages other than Dutch are valuable as well and that forcibly excluding languages from a domain of life really does not help the child.'
That is why Grijzenhout and De Mulder also wanted to focus on languages that do not usually receive much attention. They selected a total of seven languages, divided over four events. 'Of course, we cannot cover all the languages that are spoken in Leiden. For example, we chose to focus on Moroccan Arabic and Tamazight for the first event,' says Grijzenhout.
Tamazight (also known as Berber) is a separate language spoken in the Rif. This region is where most Moroccans living in the Netherlands come from. 'This language now has a written form, but for a long time Tamazight was only a spoken language. As a result, it is not always held in high esteem, even though it has a very rich oral tradition. Khalid Mourigh, one of our team members, has recorded various stories from this culture and published them so that there are now children's books available in this language as well.'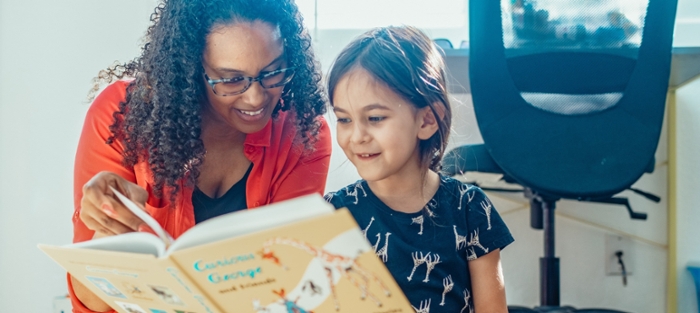 More storytelling events
The second event, this time for the languages Spanish, Portuguese and Papiamento will take place in June. 'These are Romance languages that are closely related to each other,' says Grijzenhout. De Mulder adds: 'Spanish and Portuguese are relatively large language groups and speakers of these languages could – if they take the time to get used to each other's language – understand one another quite well, even when speaking their own language. Papiamento was chosen because it is a language that is strongly influenced by Spanish as well as Portuguese. The team members involved in this event are Maria del Carmen Parafita Couto, Eduardo Alves Vieira, Susana Valdez, Ivo Boers, Nihayra Leona and Reden Valencia Libo-on.'
The third event, in September, will focus on Filipino and English. 'The selection of languages is partly pragmatic, based on people in our networks (our team members Reden Valencia Libo-on and Alice Ross Morta are Filipino). But we also wanted to strike a balance between the larger language communities and the smaller ones, and one such smaller language community is Filipino,' explains Grijzenhout.
As a festive conclusion to the project, a final event will be organised during the Children's Book Week in October. 'We will then showcase the different stories in various forms and present the latest insights into multilingualism,' says Grijzenhout. 'We are very much looking forward to that as well!
Multilingualism in the spotlight
For Grijzenhout and De Mulder the project will be a success if it generates more attention for the possibility of raising children to speak multiple languages. 'Suppose there is one family that decides to actively speak their heritage language at home as well as Dutch, that would be wonderful. It would be great if we could reassure parents that, if they want to raise children to be multilingual, it is certainly possible, even if the other language is a small minority language. And that reading to children can play a significant role in this,' says De Mulder.
'Multilingualism is easy to maintain in early childhood, but becomes increasingly difficult to maintain when children reach primary school age, because the child is exposed to Dutch a lot more,' adds Grijzenhout. 'We hope to motivate people to persist during that period and to keep speaking the heritage language. The child will appreciate this and benefit from it later on.'
Three storytelling sessions will be organised in cooperation with BplusC. At each of these meetings stories are read aloud and discussed.
Moroccan Arabic / Tamazight (23 March)
Spanish / Portuguese / Papiamento (25 June, subject to change)
Filipino / English (17 September, subject to change)
There will be a closing event during the Children's Book Week (5-16 October). Click here for more information about the project and the events.