Crossing the divide: learning about language policies and practices around the world
During the past year online meetings and lectures have become a firm feature of university life. One of the highlights of the Leiden University Centre for Linguistics' online activities has been the online seminar series 'Language policy and practices in the Global North and South' organised by guest researcher Dr. Anik Nandi. He tells us more about this weekly series aimed at those interested in language policy and literacy practices around the world.
Nandi's initial idea was to facilitate a dialogue between researchers from all over the world in the field of Language Policy. 'I am a researcher from India, so from the 'Global South' but I have mainly conducted research in the 'Global North', namely in Northern Ireland, Scotland and Spain. I strongly believe that researchers from different countries can learn a lot from each other by sharing their experiences and various perspectives on Language Policy,' says Nandi.
Differences between North and South
Nandi explains how the field of Language Policy has developed into an independent academic discipline it its own right. 'The field has evolved. People are realising there's a lot more to Language Policy than just a written document or a dossier you can download from a government website. Language policies are not always written down; there are many non-written language practices to take into account as well.'
He goes on, 'it is important to decolonise the research and look at the grassroots-level stuff. A lot of research is focused on higher levels and not on how languages are managed in an everyday context. Also, research has typically been conducted from a Global North or Euro-American perspective instead of looking at the practices and methods in the context of the Global South countries.'
Enthusiastic participants
Participants are especially enthusiastic about the range of topics and speakers of this series. As one participant from India stated, 'Eminent speakers from Malaysia, UK, USA, Chile, Netherlands, Germany and a galaxy of curious researchers deliberated on the wide spectrum of language policy. The interaction immensely enhanced the quality of the research inputs.' Another participant from Mozambique agrees: 'The speakers and themes chosen were undoubtedly highly relevant and contemporary.'
With over 680 registrations and anywhere from 30 – 90 participants for each lecture, no one is as surprised as Nandi himself at the success of the series. 'I reached out to people and organised it within 2 weeks,' he laughs. 'I'm so happy it received so much importance and feedback has been great so far. People can even access all the seminars via the Leiden University Humanities YouTube channel!'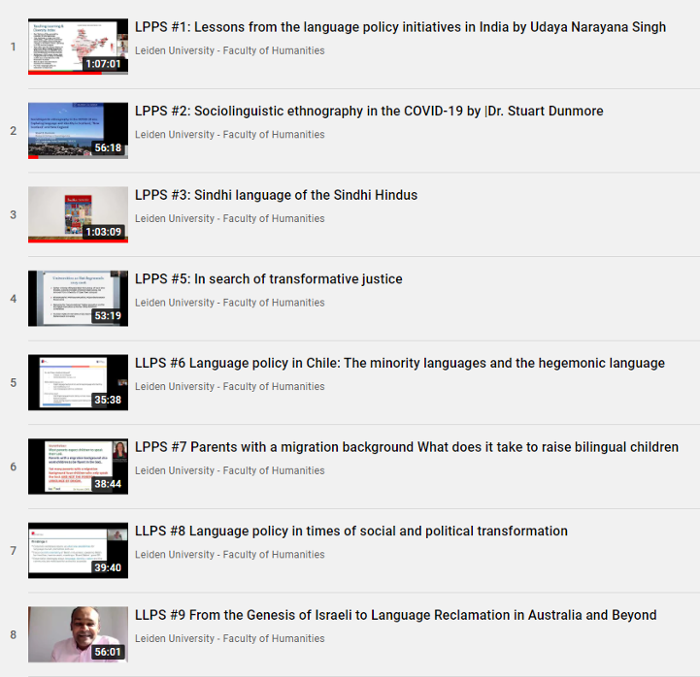 Second seminar series in the making
Nandi is eager to build on this success and has already started organising a second series taking place from October to December 2021. 'The second part to this series already has a really good line-up of speakers from different backgrounds. For example, we have eminent Language Policy scholars such as Bernard Spolsky, Joseph Lo Bianco and our very own Gijsbert Rutten,' Nandi says. 'We will again be discussing Language Policy from a wide variety of perspectives and hope many people from all over the world will join us.'
Anik Nandi is a guest researcher at LUCL. He is an active member of Herling, a platform for research about heritage languages spoken in the Netherlands set up at LUCL. Herling has recently won funding for a project that will showcase the language and culture of heritage languages spoken in Leiden during next year's Leiden City of Science 2022. The project called A Tale in Two Tongues (Een verhaal in een andere taal), will include 4 public story-telling events In Leiden in the heritage languages Moroccan Arabic/Berber, Spanish and Portuguese, Papiamento and Bengali and Hindi. Together with Hannah de Mulder and Janet Grijzenhout, Anik Nandi will be one of the main organisers of the Bengali and Hindi public event.