Children's Storybook 'Sumak Kichwa Wawa'
What do you get when you combine traditional storytelling, new technology, and a whole lot of creative passion? Sumak Kichwa Wawa, an Andean children's storybook using augmented reality, that's what! Assistant professor, Martine Bruil and researcher Ximena Buller Machado tell us more about this special project born out of the Andean Kichwa community of Ecuador.
Sumak Kichwa Wawa is a beautifully illustrated, bilingual children's storybook with five traditional tales that come alive with augmented reality. On the one hand, this colourful book with artwork based on local children's drawings is an important tool for children to learn more about Andean Kichwa and embrace their Ecuadorian cultural heritage. On the other, children learn important language skills in Kichwa and English. Through the augmented reality feature, these traditional stories come to life in the hearts and minds of children everywhere.
Grassroots language activism
In 2019, Martine Bruil was in the early stages of organising a fieldwork school. This school would allow young researchers to study Kichwa and, at the same time, practice their collaborative fieldwork skills. As part of her internship, Ximena Buller Machado was going to help with the organisation. But then the pandemic hit, and all work was put on hold. Instead, a new idea was proposed by community members and the project Sumak Kichwa Wawa was born.
The idea wouldn't have come about without the efforts of long-time language activists Elvis Tuquerres and Ernesto Farinango. 'I first met Elvis during my studies back in 2007,' says Bruil. 'At that time he was already very active, together with Ernesto Farinango and many others in the community.' Buller Machado adds: 'There are so many people who made this project happen! Like Jose Antonio Flores Farfán from CIESAS, Mexico. He shared his experience with augmented reality.'
Community involvement
So, part circumstance, part good timing, but mostly the passion and conviction of all those involved made this project a reality and a resounding success. 'Elvis told me that he and the community had never seen a book like this, not even in Spanish. So it is something super innovative that has attracted a lot of attention from both children and adults alike,' says Buller Machado.
'These types of initiatives are successful because they are initiated by the communities themselves,' says Bruil. 'And this community is special; it has a long history of creating language revitalisation materials on their own. To be able to be part of that process, as academics, is amazing.'
Funding was provided by the Leiden University Centre for Indigenous Americas (CIAS). Other contributing organisations include: LinguaPax, Sisariy, and Oralidad Modernidad.
Traditional storytelling in modern times
The stories themselves are based on storytelling by grandmothers and grandfathers of the Karanki people territory.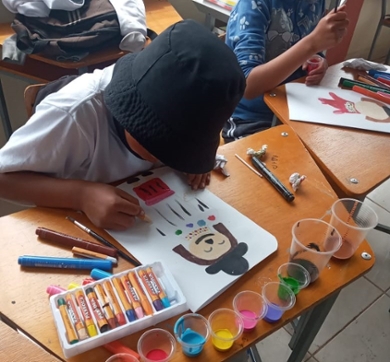 By combining new technologies with traditional storytelling, Sumak Kichwa Wawa is certainly a fun and accessible way of connecting the past and future.
After several copies of the book were donated to the local community school, the teachers worked with the students to create short plays depicting a few stories from the book. The children performed these plays in front of their parents and the community. 'For generations to come, children will see that Kichwa can still be used. I hope they will continue to identify with the stories, and that these stories will give them a feeling of comfort,' says Bruil.
Favourite stories
When asked which is their favourite story in the book, both researchers find it difficult to choose. But after some hesitation Buller Machado answers: 'I really like The Race Between the Wolf and the Snail. We all know this type of story where the underdogs win. In this case it's the snails collaborating and tricking the wolf. I see this as the community coming together and winning. And, my nephew and nieces were voice actors for the snails. That was very cool!' she laughs.
Bruil's favourite story is called The Wolf Who Wanted to Play the Quena. 'I like this especially for the artwork and how it came alive with the augmented reality,' she explains. 'But I also love The Story of the Mother and Daughter in Law because this story resonates all over South America.' She concludes, 'I hope all the stories inspire all children so that they will become language activists themselves!'
The Centre for Indigenous Americas Studies (CIAS) aims to contribute to document and understand the rich cultural heritage and to support the cultural continuity of Indigenous societies in the Americas. It does this by reconstructing, describing and preserving diversity in past, present, and future.