From vlogging to organising seminars: students of Italian put their skills into practice
Do you gain enough practical experience in an academic language and culture study programme? Certainly, proved the bachelor students of Italian this summer. For the Transfer IT programme, they combined their own interests with the knowledge they gained during their studies. This resulted in vastly different activities, varying from a vlog series about the Giro d'Italia to a course on creative writing that can be taken worldwide, interviews with people from the work field (such as translators, editors, writers), and the creation of knowledge clips for an online museum.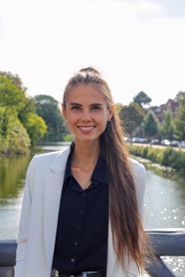 Tatum Paauwe organised an online course on creative writing
'I really like creative writing, so when I found out about Transfer IT, I wanted to do something with that. First, the plan was to organise one online workshop with one author, but that quickly turned into a series with ten Italian authors. The first one, for example, discussed the fear of a white, empty page. Halfway through, the topic was visual writing and we just finished with a class on professional publication opportunities.
It was a bit of a puzzle to arrange everything. Which authors wanted to participate? Who can be understood by people whose native language is not Italian? And prior to the courses, we wanted to interview the authors to determine what kind of seminar would best suit the participants. I ended up working on it from January to September. A whole pregnancy, yes. Fortunately, I received a lot of support from my lecturer, Carmen Van den Bergh. She used her network to recruit authors. That was very nice, because people are less likely to respond to a student.
During some sessions, as many as 130 people participated, from all corners of the world. One man from Toronto even got up at 4 in the morning to participate. It gives me a very powerful feeling that I managed to lead this project. My love for writing has only grown. I would love to do something with it in the future.'
Daan Kessens made daily vlogs about the Giro d'Italia
'A couple of years ago I got interested in bicycle racing through the Tour de France. That is the most accessible race because it airs during the summer. Later on, I started watching the Giro d'Italia as well and started doing some things related to bicycle racing. I translated for a YouTube series on bicycle racing, for example, and now I also spend some time on a bike myself – I just had my first fall. So when my lecturer, Carmen Van den Bergh, approached me with the question whether I wanted to vlog about the Giro d'Italia, I was immediately excited.
But it was also a nice excuse to watch the entire race. I even vlogged every day of the Giro, even though the original plan was to make only five videos.
At the beginning, it felt uncomfortable to appear on screen myself, and also having to look at myself when editing the videos. Luckily, I was able to quickly flip a switch and I already knew a little bit about editing, so that didn't take too much time. I would like to continue with the channel, although I would maybe prefer to make videos that have more to do with Italian culture.'
What is Transfer IT?
University lecturer Carmen Van den Bergh explains: 'The educational innovation project Transfer IT offers students of Italian language and culture a way to showcase their skills through nice projects and internships. This way, a 'practical' element is added to education, in addition to the theoretical an intellectual components. Why would you, as a student, wait until after your studies to start finding out about possible job opportunities? You can immediately apply the knowledge you have gained in practice: the early bird does catch the worm, right?'