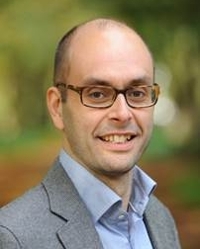 Stefaan Van den Bogaert
Scientific Director / Professor of European Law
Name

Prof.mr. S.C.G. Van den Bogaert

Telephone

E-mail
Stefaan Van den Bogaert (1973) is Professor in European Law and Director of the Europa Institute at Leiden Law School, the Netherlands.
Van den Bogaert is also visiting Professor in European Sports Law at the University of Brussels (VUB), Belgium. He is fellow at the Graduate School of legal studies at Leiden Law School, member of the Ius Commune Research School and member of the editorial committee of the Maastricht Journal of European and Comparative Law.
Van den Bogaert graduated from the Faculty of Law at the Catholic University of Leuven. He also studied at the University of Osnabrück (Erasmus Programme 'Social Security in Europe'). He holds an LLM from the University of Cambridge (LLM in European and Commercial Law, first class) and obtained a PhD in Law (2003) at the European University Institute in Florence with a thesis on the regulation of the mobility of sportsmen in the European Union in the post-Bosman era.
During his studies, Van den Bogaert received a grant from the European Cambridge Trust and won the Jennings Prize of Wolfson College for the best LLM student. He also got the Best Written Pleading Award in the European Moot Court Competition in 1999. He was nominated for the University Education prize at Maastricht University in 2005. In 2006, he was awarded the Hustinx Stipend at Maastricht University for Outstanding Young Scholarship.
Van den Bogaert worked as research assistant at the Institute of Social Law of the Catholic University of Leuven (1996-97) and at the European University Institute (2000). He was a trainee at the Sports Unit of DG Education and Culture of the European Commission (2000-01). Between 2003 and 2009, he worked at Maastricht University, initially as lecturer and from 2007 as senior lecturer in European law.
His main research interests are EU internal market law, EU competition law, EU institutional law and sport.
Scientific Director / Professor of European Law
Faculteit Rechtsgeleerdheid
Instituut voor Publiekrecht
Europees Recht
Directeur
Gasthoogleraar Europees sportrecht
Redactielid
Medewerker
Bestuurslid