Austrian perspectives on Europe
On 1st July Austria will assume the rotating presidency of the Council of the European Union. An appropriate occasion to invite former president of Austria Heinz Fischer to deliver the eighth Europa Lecture on Friday 8th June. During the lecture Mr Fischer shared his views on the history of his country and its membership of the EU since 1995.
The Europa Lecture, organized annually by the Europa Institute, is a platform for European political leaders to share their views on the challenges and opportunities facing Europe today. Notable speakers have been, for example, Jeroen Dijsselbloem, Margrethe Vestager and Herman van Rompuy. On Friday 8th June Heinz Fischer, president of Austria from 2004 till 2016, took to the stage in the Small Auditorium, which was filled to capacity for the event. Mr Fischer reflected on the many moments in which Europe and Austria have been of great historical importance to each other, and how the country and the Union are closely connected, both before and during Austria's membership.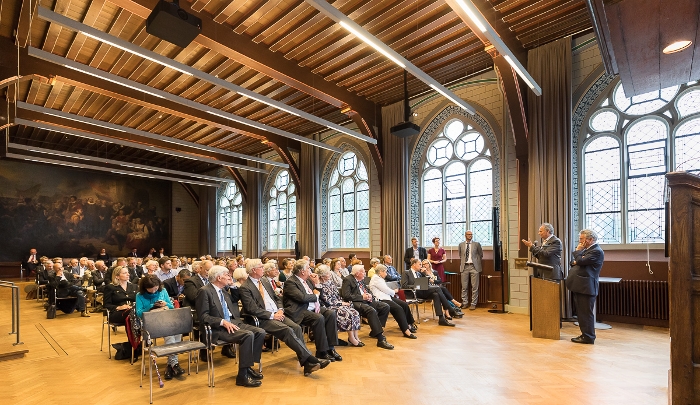 Anti-European sentiment
Like many other countries, Austria has been confronted with strong anti-European sentiments among the population. In 2017 a new government was formed which, for the first time in 45 years, did not comprise a coalition of the Christian democratic ÖVP and social democratic SPÖ. The former had altered their course in 2015, when the young conservative Sebastian Kurz became party leader. The migration crisis was an important topic during the election campaign, and it was especially on this issue that the ÖVP and the right-wing FPÖ party found one another and formed a coalition, with Kurz as chancellor.
Interference from Brussels
Europe's youngest ever national leader (31) will preside over the Council of the European Union for the next six months, and the other members are looking on expectantly to see how he goes about it. His coalition partner FPÖ may no longer want Austria to leave the Union; they remain highly critical of any form of interference from Brussels. Kurz's own ÖVP has also changed its tune. Formerly explicitly pro-European, now they say that as many issues as possible should be handled at the national level, and only the biggest problems at the European level. A notable exception is of course the migration issue, which should also be handled nationally.
Fischer recognises that he doesn't predict a rosy future for Austria on the eve of its 100th birthday. "However, I hope that the lessons from our past will ensure that the Europe of our children and grandchildren remains a peaceful and democratic Union."
(Photos: Monique Shaw)