Jeroen Dijsselbloem to deliver Europa Lecture
Jeroen Dijsselbloem, President of the Eurogroup, will deliver the Europa Lecture on 17 January 2018 in the Academy Building at Leiden University.
As President of the Eurogroup and Dutch Minister of Finance Mr. Dijsselbloem has experienced the euro crisis from within. When entering office in January 2013 the crisis was at its height. The Cypriot banking sector was going through a tough patch and needed financial assistance at short notice. Under Dijsselbloem's guidance, the Eurogroup played a central role in the creation and coordination of this assistance operation. At the same time it was heavily involved in structural reforms of the currency union, in particular the establishment of the Banking Union. As a result of these reforms, the eurozone now fundamentally differs from the currency union that was in place when Dijsselbloem entered office.
The Europa Institute of Leiden University, which is organising the Europa lecture for the seventh time, is pleased that Dijsselbloem has accepted the invitation to come to Leiden to reflect on his time as chair of the Eurogroup. Stefaan Van den Bogaert, Professor of European Law and Director of the Europa Institute: 'We are looking forward to the President sharing some of his extensive knowledge and experience on matters involving the currency union with the audience of the Europa Lecture.'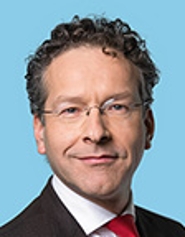 Biography Jeroen Dijsselbloem
Before entering office as Minister of Finance in November 2012 and as President of the Eurogroup in January 2013, Jeroen Dijsselbloem served in a number of government positions, including as advisor to the Dutch Minister for Agriculture (1996-1998), as policy officer for the Dutch Labour party (PvdA) (1993-1996) and as member of Wageningen Municipal Council (1994-1997). From 2000 to 2012 he was a member of the House of Representatives of the Netherlands.
Europa Lecture
Previous speakers (in chronological order):
Attendance is by invitation only.
Europa Institute
More information about the Europa Institute.