Stefaan Van den Bogaert and Armin Cuyvers speak and moderate Ambassadors forum on ASEAN Conference
On 2 and 3 September 2016, the International Conference on ASEAN Development (ICAD) 2016 took place in Leiden. The conference aimed to draw comparative lessons from the EU for the development of the ASEAN Economic Community, which was launched in 2015.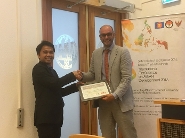 Stefaan Van den Bogaert gave one of the two Key Note speeches, discussing the key successes and failures of European integration. Armin Cuyvers subsequently chaired the Politics and Law chamber, and gave a presentation on the theme of 'Balancing law and politics in regional integration: EU lessons for the ASEAN Economic Community?' In addition, Cuyvers moderated the closing Ambassadors Panel with the ambassadors of Indonesia, Laos and Thailand to the Netherlands, graciously hosted in the City Hall by the Mayor of Leiden.
Stefaan Van den Bogaert is a professor of EU law and heads the Europa Instituut of Leiden Law School. Dr. Armin Cuyvers lectures in European Law at Leiden Law School, and inter alia specializes in comparative regional integration.