Book Launch The Law of the European Union
The long awaited fifth edition of book 'The Law of the European Union' (formerly Kapteyn & VerLoren van Themaat) was launched on Friday 11 January 2019 at the T.M.C. Asser Instituut, The Hague.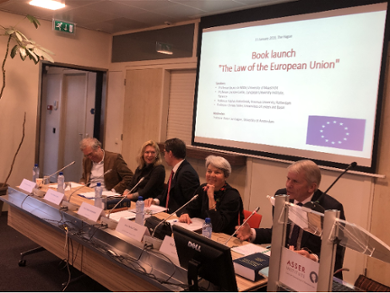 The book constitutes a new and comprehensive manual of European Union Law. It is edited by Pieter Jan Kuijper, Fabian Amtenbrink, Deirdre Curtin, Bruno De Witte, Alison McDonnell, Stefaan Van den Bogaert and written by forty-eight authors, all of whom are recognized academic scholars and experienced practitioners of European Union Law.
During the book launch Professor Bruno de Witte (University of Maastricht) talked about the Structure and Evolution of Union Law; Professor Deirdre Curtin (European University Institute, Florence) discussed some procedural and administrative aspects of various proceedings before the Court of Justice of the EU; Professor Fabian Amtenbrink (Erasmus University, Rotterdam) discussed the vast developments in the Economic and Monetary Union; and Professor Christa Tobler (Universities of Leiden and Basel) presented the recent developments in the field of Equal Treatment and Non-Discrimination in European Union Law, focusing in particular on the recent case law on the horizontal application of the Charter of Fundamental Rights. The discussion was moderated by Professor Pieter Jan Kuijper (University of Amsterdam).
The Europa Institute of Leiden Law School is very happy to have participated in this ambitious project. Contributions from members of the Europa Institute:
Editors: Alison McDonnell and Stefaan Van den Bogaert
Authors:
Chapter 11: APPLICATION AND ENFORCEMENT OF EU LAW IN THE MEMBER STATES, Alison McDonnell
Chapter 13: FREE MOVEMENT OF GOODS, Stefaan Van den Bogaert and Pieter Van Cleynenbreugel
Chapter 14: FREE MOVEMENT OF SERVICES, ESTABLISHMENT AND CAPITAL, Stefaan Van den Bogaert, Armin Cuyvers and Ilektra Antonaki
Chapter 17: EUROPEAN MIGRATION AND ASYLUM LAW, Jorrit J. Rijpma
Chapter 21: STATE AID LAW, Tom Ottervanger and Maarten Aalbers
Chapter 29: EQUAL TREATMENT AND NON-DISCRIMINATION, Christa Tobler