Cum laude awarded to Vestert Borger
On 31 January 2018, Vestert Borger was awarded his doctorate cum laude, following the defence of his dissertation: 'The Transformation of the Euro: Law, Contract, Solidarity'. The dissertation contributes to a better understanding of the euro, and even of the European Union.
In a packed Grand Auditorium at Leiden University and in the presence of an impressive number of professors, supervisor Stefaan Van den Bogaert addressed his PhD candidate. He praised Borger for his talent and his diligence: 'Any major achievement, and certainly that awarded the qualification cum laude, is always the result of 15% talent added to 85% of hard work and perseverance. You are blessed with talent; your diligence in becoming accustomed to an up till then new, complex and highly technical area of law - combining law, economics and politics - was also clearly present.'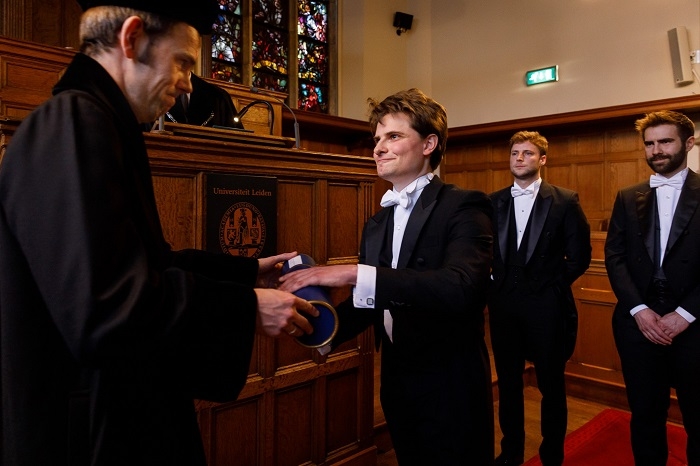 Van den Bogaert was evidently very impressed by the dissertation: 'Your own magnum opus, written in truly beautiful and accessible language. An absolute must for anyone who wants to learn more about the Economic and Monetary Union.'
Borger did more than just write his dissertation in the past years. He also taught in both the bachelor's and master's programmes and wrote various articles that were published in national and international journals. He was also awarded the Meijers Prize for the best scholarly article written by a PhD candidate.