Opening lecture "Traveling through Europe's darkness and daylight – A geopolitical Odyssey"
The master programme was officially opened by H.E. Kees Klompenhouwer – the Ambassador of the Netherlands to the Czech Republic. During his lecture, entitled "Traveling through Europe's darkness and daylight – A geopolitical Odyssey", Ambassador Klompenhouwer shared valuable insights on the history of the European Union from the perspective of Central and Eastern European countries.
Opening lecture Master European Law
On the basis of some major historical events that have taken place in both West- and Central and East Europe in the past four decades, such as the collapse of communism in 1989 and the post-cold war period that followed, Mr. Klompenhouwer demonstrated how liberal democracy, although vulnerable, has proven to be flexible and resilient. This led him to the key question of his lecture, i.e.: is liberal democracy also resilient enough to cope with the challenges Europe is facing today? Or are we witnessing the end of Europe as we know it?
With reference to defining moments in Europe's contemporary history, including the Srebrenica genocide in 1995, the financial crisis of 2008, the shooting down of Malaysia Airlines flight MH17 and the Maidan "Revolution of Dignity" in Kiev in 2014., Ambassador Klompenhouwer noted that European cooperation has been under considerable strain. More specifically, he observed a "growing gap" between Western and certain Central & Eastern countries, which he analysed in terms of location, economic self-confidence and independence, the recently acquired sovereignty on the side of the Central and East Europe and so-called 'demographic panic'.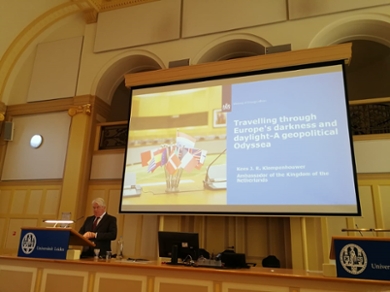 The 40 years Odyssey on Europe illustrates that one cannot speak of a linear march of history, but rather of powerful swings of a pendulum consisting out of cycles of destruction as well as cycles of creation and renewal. Throughout the past four decades, European democracy has demonstrated a remarkable capacity to adapt. In order to continue in this vein, Mr. Klompenhouwer submitted, strong democratic leadership and courage is needed in all layers of society. Academia, civil society and government will need to work closely together across borders to ensure a European legal architecture which can adapt to technological and social challenges as to strengthen our democratic rules based system.
The different aspects of the topic were further discussed during a Q&A session and the informal gathering following the lecture in the Faculty Restaurant. The Europa Institute joins the students in thanking Ambassador Kees Klompenhouwer once again for his revealing and inspiring opening lecture.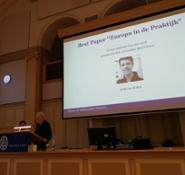 Europa in de Praktijk Paper Prize
Because of the outstanding quality of his paper, the Europa Institute Paper Prize was awarded to Joris van de Riet for his essay "Diesen Kuß der ganzen Welt? On free movement for same-sex couples in the EU."
Europa Institute Thesis Award
Caspar Klos received the Europa Institute Thesis Award 2017-2018. The jury considered each of the four papers to be excellent, but they felt that the thesis of Caspar Klos stood out because it contains considerably more own legal analysis than the other papers, combined with good research of other authors' academic writing, and it is more elegantly written. From a classic legal analysis perspective this is clearly the top paper of the four.