Commissioner Margrethe Vestager to deliver Europa Lecture
Margrethe Vestager, European Commissioner for Competition, will deliver the Europa Lecture on 14th June 2017 in the Grand Auditorium of the Academy Building at Leiden University.
The Europa Institute of Leiden University, which organizes the lecture for the sixth time, is pleased with the arrival of the influential Vestager to Leiden. Stefaan Van den Bogaert, Professor of European Law and Director of the Europa Institute: 'We are looking forward to the commissioner sharing some of her extensive knowledge and experience on European competition law matters and beyond with the audience of the Europa Lecture.'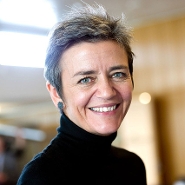 Biography Commissioner Vestager
Margrethe Vestager has been a professional politician since the age of 21, when she was appointed to the central board and executive committee of the Danish Social Liberal Party (Radikale Venstre) and its European Affairs Committee. Vestager served as a Member of Parliament for the Social Liberal Party from 2001 until 2014 and she was the political leader of her party from 2007 to 2014. She served as Minister of Economic Affairs and the Interior from 2011 to 2014. Among others, Vestager forced through deep cuts to unemployment benefits in Denmark's generous social welfare.
In October 2014 Vestager was appointed as Denmark's EU Commissioner in the Juncker Commission. Since then, she has moved decisively on a number of major antitrust cases like the ones against Gazprom and Google. Besides, she has ordered Ireland to recover as much as 13 billion Euros from Apple as part of a broader crackdown on tax avoidance.
On 15 February 2017 Vestager received a doctorate honoris causa from KU Leuven for her 'firm policy on competition and government support within the European Union' and especially for her 'specific attention to the ethical dimension of the behaviour of companies and governments.' On 20 April 2017, Time Magazine proclaimed Vestager to be one of the 100 Most Influential People in the world.
Interview The Guardian
Vestager was interviewed by The Guardian on 18 May 2017: "EU insists trade deals must meet its labour and competition standards".
Europa Lecture
This year the Europa Institute organizes its sixth annual Europa Lecture. Van den Bogaert: 'We are delighted that for the sixth time in a row a key speaker in the area is willing to address an important Europe-related issue.'
Previous speakers (in chronological order):
Petro Poroshenko, President of Ukraine;
Herman Van Rompuy, former President of the European Council;
Alexander Italianer, Secretary-General of the European Commission;
Radosław Sikorski, former Minister of Foreign Affairs in Poland and
Jonathan Mance, Lord Justice at the UK Supreme Court.
Attendance is by invitation only.
Europa Institute
More information about the Europa Institute.