Former Prime Minister of Aruba, Mike Eman, speaks at the Europa Institute
On Wednesday 13 February Mike Eman, former Prime Minister of Aruba, delivered a lecture on the relationship between Aruba, The Kingdom of the Netherlands and the European Union. He spoke about the constitutional position of Aruba in The Kingdom of the Netherlands in the light of EU law and its future relationship with the Union.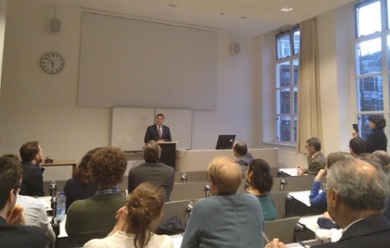 Mr Eman devoted an important part of his lecture to the case Eman & Sevinger. This case, instituted by Eman himself, dealt with the question whether the Dutch Electoral Law could refuse to register certain Dutchmen as entitled to vote in European Parliamentary elections on the basis that they resided in Aruba. In its judgment the European Court of Justice held this refusal to be in violation of the principle of non-discrimination which all citizens of the Union can invoke. Even though the judgment led to a change in the Dutch Electoral Law, Mr Eman stressed that in practice Arubans still encounter practical difficulties when casting their ballot.
Mr Eman ended his lecture by reflecting on the status of Aruba under Union law. Aruba currently belongs to the Overseas Countries and Territories (OCT). Mr Eman discussed the possibility to intensify relations with the Union by changing Aruba's status into Outermost Region (OR) and explored the challenges accompanying such a change, including the possible introduction of the euro.