Fieldwork campaign
St. Vincent
The Caribbean Research Group has recently been involved in fieldwork on two sites on St Vincent. Firstly Brighton Beach, and secondly Argyle.
Contact
Brighton Beach
The Brighton Beach site in southeastern St. Vincent, destroyed by sand-mining activities, was subject to small-scale rescue excavations by members of the Leiden Caribbean Research Group together with Leiden University students in summer 2011. Leiden's involvement followed an invitation from the St. Vincent and The Grenadines National Trust (SVGNT) who requested assistance in excavating the threatened site.
The report of the fieldwork can be found here. Appendices available on request.
Argyle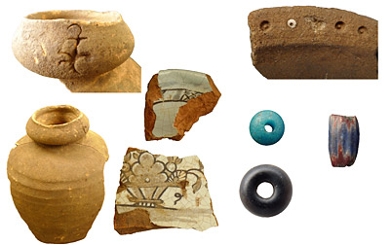 Argyle is a site at the mouth of the Yambou river in southeastern St. Vincent. A cooperative project between the Caribbean Research Group, the St. Vincent National Trust and the St. Vincent and the Grenadines International Airport Development Company Ltd. in 2010 revealed ca. 350 archaeological features and the floor plans of at least 11 structures suggesting site occupation in the late 16th to early 17th centuries which concurs with the Island Carib occupation of the Windward Islands. Typical Cayo ceramics were found associated with European materials. Publications and report forthcoming.