Fieldwork campaign
St. Eustatius
From 20 June to 12 August 2011 a team from the Caribbean Research Group, Faculty of Archaeology, Leiden University and the St. Eustatius Centre for Archaeological Research (SECAR) under the direction of Dr. Grant Gilmore III, Dr. Menno Hoogland, Prof. Corinne Hofman and Dr. Alice Samson carried out Phase 2 of the archaeological assessment of the Cul-de-Sac area on St. Eustatius, commonly known as The Farm.
Contact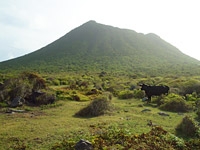 The project was initiated by NuStar Energy in concordance with the European Union Valetta Treaty (or Malta Convention), prior to the expansion of the NuStar Energy oil terminal including the construction of a new jetty. The field team consisted of staff members and students from Leiden University and SECAR volunteers.
As well as the archaeological assessment of the Farm, a survey was carried out in other parts of the island to relocate and assess the state of conservation of a number of Amerindian sites.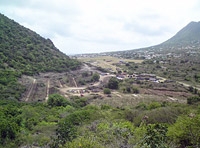 St. Eustatius is best known archaeologically for the excavations at Golden Rock, a late Saladoid settlement site in the centre of the island. However, the island also boasts myriad other Amerindian sites from Archaic to colonial times.
Small-scale test-pitting was undertaken at a number of locations, some already known, and others revealing new sites.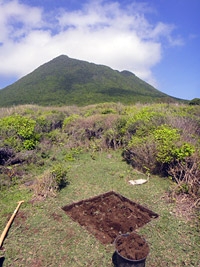 For example, a small site was discovered in Corre Corre Bay, which was an extraction point for the processing of shellfish, such as Cittarium pica, fished from the bay below. This site, with characteristic Saladoid pottery, may have been used by inhabitants of the larger inland settlement of Golden Rock for exploitation of marine resources.
Small-scale rescue excavations were also carried out at the site of Smith Gut between the municipal dump and the sea where a site previously recorded by Jay Haviser is in imminent danger of eroding away. The team recovered shell and a variety of flint and hard stone artefacts.