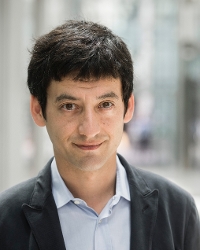 Simcha Jong Kon Chin
Hoogleraar Science based business
Naam

Prof.dr. S. Jong Kon Chin

Telefoon

E-mail
Simcha joined Leiden University in 2016 as Professor and Director of Science Based Business. He is responsible for developing new research, teaching, and outreach activities in management for the Faculty of Science.
Simcha was previously a visiting Assistant Professor at the Department of Global Health and Population at the Harvard T.H. Chan School of Public Health, and a member the Global Health Systems cluster at Harvard. He also was an Assistant Professor at the UCL School of Management and the faculty chair of the UCL Healthcare Management Initiative.

Simcha's research group studies innovation processes in science-based industries, and the changing dynamics governing academic work. Simcha received funding from major UK funding bodies such as Innovate UK, ESRC, NESTA, NIHR, and BIS, as well as various industry partners for projects examining business development strategies for science-based firms, and the commercialisation of disruptive cell therapy and personalised medicine technologies.

Simcha has a PhD in Social and Political Sciences from the European University Institute in Florence, Italy, an MPhil in Management Studies from the University of Cambridge (first class honours with distinction level), and a BA in Social Science from Utrecht University's University College (cum laude). In addition, he was a visiting scholar at the Department of Sociology at UC Berkeley.

Simcha's research has been published in leading international scientific and management journals, including Nature Biotechnology, Research Policy, and Industrial and Corporate Change. Simcha was elected Honorary Cambridge University European Trust Scholar, was awarded the first prize in the PRIME Early Career Competition, a DIME WP European Framework Grant for qualitative research on university entrepreneurship, a Georgia Tech Science and Technology policy conference early career prize, and an Academy of Management OB Most Innovative Student paper award.

PhD and Postdoctoral researchers from Simcha's group moved on to academic positions in management and science policy, at Warwick Business School, Georgia Tech, National Taiwan University, SPRU, Middlesex University, and UCL.
Simcha's research focuses on the intersection of policy, R&D, and healthcare practice. His projects examine challenges involved in building successful science-based ventures, in implementing disruptive technological innovations in healthcare settings, and in organising scientific work in an academic landscape that is increasingly internationally interconnected and tied into industrial R&D. In this research, Simcha builds on theory in the sociology, technology management, and entrepreneurship literature.
R&D dynamics in sectors such as the life sciences sector, where innovation is often science-driven, constitute a first focus in Simcha's research. He has developed templates for business models of science-based ventures and advanced our understanding of trade-offs managers of such ventures face in the organisation of R&D. Simcha published several ESRC-funded studies on R&D strategies of US and UK biotechnology firms, and interactions of these firms with academic laboratories. In addition, he developed a valuation tool for science-based R&D projects in the context of a TSB-funded project on the cell therapy sector. Currently, Simcha builds on his work in this area to examine policy interventions in healthcare fields such as maternal and neonatal health where corporate R&D activity is comparatively weak.
Precision medicine is another focus in Simcha's work and he leads a number of interdisciplinary projects that examine the challenges policy makers, firms, and healthcare delivery organisations face in this field. Simcha collaborates in these projects with clinical researchers and practitioners from UCL's hospital networks, as well as industrial partners. With support from Janssen Pharmaceuticals and TSB, he has done research on organisational and commercial challenges involved in the incorporation of advanced 'point of care' diagnostics services in infectious disease management in the NHS. With support from Siemens, Simcha is working with a team at the UCL Royal Free Hospital to assess the economic and clinical value of various new patient stratification strategies that involve primary care trusts in the management of liver disease. With support from NIHR, Simcha is involved in research at UCLH that examines the use of advanced imaging data in stratifying patients in oncology care. Finally, Simcha is studying the implementation of novel integrated decision support systems that seek to bring complex advanced molecular diagnostics information such as next generation genomic sequencing information, to routine clinical care at a number of major academic hospitals in the US.
The changing organisational dynamics in science as academic work has become more international, and closely interlinked with industrial R&D constitute a third focus in Simcha's research. He published articles that examine institutional models governing academic work in the life sciences at Silicon Valley universities Berkeley, Stanford, and UCSF that are central nodes in biomedical innovation networks. Currently, Simcha is working on projects that examine the organisation and politics of international scientific consortia in the biomedical and geosciences fields, as well as changes in European systems of higher learning.
Simcha does not only disseminate his research through publications in scientific journals, he also directly engages practitioners by organising executive training and seminar events. These events have been attended by senior managers and policy makers from organisations such as MRC Technology, Reneuron, Astex Pharmaceuticals, GlaxoSmithKline, Pfizer, TSB, Cell Therapy Catapult, and the UK Departments of Health, and Business, Innovation, and Skills.
Hoogleraar Science based business
Wiskunde en Natuurwetenschappen
Leiden Inst. Advanced Computer Sciences
Werkadres
Snellius
Niels Bohrweg 1
2333 CA Leiden
Kamernummer 104
Contact
Visiting Professor
Visiting Professor