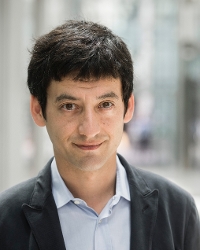 Simcha Jong Kon Chin
Hoogleraar Science based business
Naam

Prof.dr. S. Jong Kon Chin

Telefoon

E-mail
Hoogleraar Science based business
Wiskunde en Natuurwetenschappen
Leiden Inst Advanced Computer Sciences
Werkadres
Snellius
Niels Bohrweg 1
2333 CA Leiden
Kamernummer 102
Contact
Lin R.-T., Lin C.-K., Christiani D.C., Kawachi I., Cheng Y., Verguet S. & Jong Kon Chin S. (2017), The impact of the introduction of new recognition criteria for overwork-related cardiovascular and cerebrovascular diseases: a cross-country comparison, Scientific Reports 7: 167.
Hassan C., Huang H., Warren K., Mahdavi B., Smith D., Jong Kon Chin S. & Farid S.S. (2016), Process change evaluation framework for allogeneic cell therapies: impact on drug development and commercialization, REGENERATIVE MEDICINE 11(3): 287-305.
Srivastava A., Jong S., Gola A., Fenlon L., Scantlebury P., Tanwar S., Liu H., Gailer R.E., Morgan S., Warner A., Sennett K., Parkes J., O' Beirne J., Tsochatzis E. & Rosenberg W.M. (2015), A probabilistic decision model using non-invasive fibrosis markers in Primary Care NAFLD pathways predicts increased cirrhosis detection rates and reduced overall healthcare expenditure, HEPATOLOGY 62: 920A-920A.
Wong S.C.K., Sasportas L.S., Richardson K., Gordon B.R., Jayatunga M.K.P., Shalizi A., Pfister S.X., Stanzl E.G., Chui C., Mathur M., Thomsen S.K., Shetty C., Pliuskys L., Mehra A., Bahar H., Godec J., Jong S. & Perez D.A. (2015), Keys to the kingdom, NATURE BIOTECHNOLOGY 33(3): 232-236.
Jong Kon Chin S. & Kremena S. (2014), When publications lead to products: The open science conundrum in new product development, RESEARCH POLICY 43(4): 645-654.
Jong S. (2008), Academic organizations and new industrial fields: Berkeley and Stanford after the rise of biotechnology, RESEARCH POLICY 37(8): 1267-1282.
Visiting Professor
Begeleiding 2 promovendi