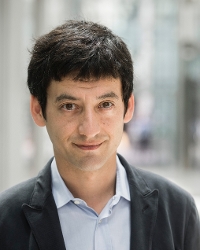 Simcha Jong Kon Chin
Professor of Science-based business
Name

Prof.dr. S. Jong Kon Chin

Telephone

E-mail
Simcha is a full Professor and Director of Science Based Business at Leiden University. Simcha previously held faculty appointments at the Harvard T.H. Chan School of Public Health (visiting) and at the UCL School of Management where he still is a Visiting Professor.
Simcha's research group examines social, political, and cultural processes governing innovation. Specifically, his group focuses on the following contexts: Innovation in health systems, the organisation of global R&D networks, and the management of pharmaceutical R&D. Simcha received funding for his research from UK and international funding bodies such as ERC (consolidator), Innovate UK, ESRC, NESTA, NIHR, and BIS, as well as various industry partners.
Simcha has a PhD in Social and Political Sciences from the European University Institute in Florence, Italy, an MPhil in Management Studies from the University of Cambridge (first class honours with distinction level), and a BA in Social Science from Utrecht University's University College (cum laude). In addition, he was a visiting scholar at the Department of Sociology at UC Berkeley.
Simcha's research has been published in leading international scientific and management journals, including Nature Biotechnology, Research Policy, Industrial and Corporate Change, and Journal of Management Studies. PhD and Postdoctoral researchers from Simcha's group moved on to academic positions in management and science policy at top-institutions such as UCL, Warwick Business School, Indian Institute of Technology, Georgia Tech, National Taiwan University, SPRU, University of Chicago, Middlesex University, and Bristol University.
Professor of Science-based business
Wiskunde en Natuurwetenschappen
Leiden Inst. Advanced Computer Sciences
Work address
Snellius
Niels Bohrweg 1
2333 CA Leiden
Room number 104
Contact
Visiting Professor
Visiting Professor