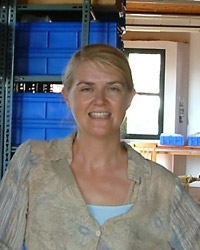 Joanita Vroom
Professor Archaeology of Medieval and Early Modern Eurasia
Name

Prof.dr. J.A.C. Vroom

Telephone

E-mail
Research interests
She has studied many major collections of Medieval and Post-Medieval pottery in the eastern Mediterranean and in the Near East, and is active as pottery specialist for international excavations and surveys in Albania (e.g., Butrint, Apollonia, Durrës, Rembeç, Shkodra), in Greece (e.g., Aetolia, Athens, Boeotia, Chalkis, Thebes, Kythera, Antikythera, Almyros, Mytilene), in western Turkey (e.g., Ephesus, Limyra, Sardis), in eastern Turkey (e.g., Tarsus, Avkat/Euchaita, Çadır Höyük, Kalehöyük, Horum Höyük, Zeytinli Bahçe), in the Crimea (e.g., Chersonesos) in Cyprus (e.g., Troodos Mountains), in Jordan (e.g., Udhruh) and in Oman (e.g., Wadi al Jizzi/Sohar). Until now, she has been working for 31 projects with ca. 25 universities (14 European, 11 non-European) and ca. 14 scientific institutes (8 European, 6 non-European).

List of international projects
List of publications
Short CV
She graduated with two MA degrees at Utrecht University (both in Archaeology and History), and completed her PhD in Mediterranean Archaeology of the Medieval and Post-Medieval periods at Leiden University (2003). Subsequently, Vroom was senior research fellow at the Institute of World Archaeology of the University of East Anglia (Norwich, UK), at the Research Centre for Anatolian Civilizations of Koç University (Istanbul, TR) and at the Department of Archaeology of the University of Sheffield (UK). In 2011 she organized the 'First Amsterdam Meeting on Byzantine and Ottoman Archaeology' at the University of Amsterdam on the current state of Medieval and Post-Medieval archaeology in the Mediterranean area. To mark this event, she organized the simultaneous exhibition 'Life among Ruins' at the Allard Pierson Museum in Amsterdam, highlighting the complex relation throughout the ages between archaeological remains and daily life in the Mediterranean. The 'Life among Ruins' exhibition is still on show online: Life Among Ruins. Furthermore, Vroom was involved in advising various major exhibitions (e.g., in the Museum Boymans- van Beuningen in Rotterdam). She is currently contributing author of 'The Oxford Dictionary of Late Antiquity' and 'The Cambridge Handbook to Byzantine Archaeology', and series editor of the series 'Medieval and Post-Medieval Mediterranean Archaeology' at Brepols Publishing House (Turnhout, BE).
Current research project
Her application in 2009 for a substantial research project with the title Material Culture, Consumption and Social Change: New Approaches to Understanding the Eastern Mediterranean during Byzantine and Ottoman Times was accepted by the Netherlands Organization for Scientific Research (NWO) in the form of a prestigious 5-years VIDI-grant (2010-2015).
Professor Archaeology of Medieval and Early Modern Eurasia
Faculteit Archeologie
World Archaeology
Near Eastern