Gastronomical archaeology in new book Medieval MasterChef
The archaeology of food is in all sorts of ways 'hot'. To illustrate this, recently the book Medieval MasterChef was published, focusing on cuisine and foodways in the Mediterranean and north-western Europe during Medieval and Post-Medieval times.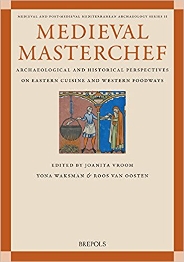 A selection of papers
The volume presents a selection of papers of the session «Medieval MasterChef», organized in 2014 at the 20th Annual Meeting of the European Association of Archaeologists (EAA) in Istanbul, together with several additional chapters, thus making this the not to be missed book on the state of the art archaeology and history of cuisine, dining habits and foodways in the Near East and Western Europe from Medieval to Early Modern times.
The book was edited by Joanita Vroom, Yona Waksman, and Roos van Oosten.
Read more about the book Medieval MasterChef on the publisher's website.