Research project
Data Atlas of Byzantine and Ottoman Material Culture
Archiving Medieval and Post-Medieval Archaeological Fieldwork Data from the Eastern Mediterranean (600-2000)
Contact

Funding

DANS: KNAW/NWO

Partners
This research involves the process of archiving, depositing and durable storage of data from different excavations and surveys on behalf of one related research context in the eastern Mediterranean.
Project Description
The aim of this KPD project (Klein Data Project) - financed by DANS of KNAW/NWO - is both archiving and creating on-line accessibility and long-term durable storage of data relating to unique archaeological material from various multidisciplinary excavations and surveys in the eastern Mediterranean. The material was studied and documented during the NWO-VIDI project: 'Material Culture, Consumption and Social Change: New Perspectives for Understanding the Eastern Mediterranean during Byzantine and Ottoman Times'(2010-2015), and resulted in a large dataset relating to archaeological material (e.g., ceramics, glass and metal) currently stored in various digital datasets.
This project made great strides in improving the (previously uncertain) typo-chronology of post-antique ceramics (600-2000) in the region under study, as well as gathering more knowledge concerning the relationship between the production, distribution and consumption of ceramics in four urban centers (Butrint, Athens, Ephesus and Tarsus) and their rural hinterland (e.g., Aetolia and Boeotia; see Vroom 1998; 2003; 20142). The archiving of the Aetolia-data is done as part of the Ariadne-Project, thus building on creating a collection of Mediterranean data from Dutch projects.
The intent is to describe, link and archive the large digital datasets (stored in Excel and Access), supplementing them with site forms, drawings, photographs, graphs, maps and 3D object models, thus creating a large, integrated set of research data to be accessible for study in the future.
Relevance
The formal deposition of this data is of great importance for the internationally flourishing fields of Byzantine, Islamic and Ottoman archaeology in the region, which are regionally faced with continuous destruction of archaeological and historical archives (Vroom 2013). The documentation of the data was undertaken with international partners, including the 'American School of Classical Studies at Athens' (ASCA), the 'Österreichisch Archäologisches Institut' (ÖAI) in Vienna, the 'Butrint Foundation' in London, and the 'Bosphorus/Bozağiçi University' in Istanbul.
Project aims and goals
Besides preparing datasets for archiving, some datasets have to be supplemented in order to create a complete digital archive of all the fieldwork data. For this purpose, scanned object drawings have to be rendered in Adobe Illustrator, as well as digitising analogue forms (sherd forms, assemblage forms and site forms, as well as historical statistical data and relevant publications which are not accessible outside of the research area). Also of importance is preparing some 3D object scans for publication and scanning a set of historical aerial photos and maps and giving them (if possible) geo-links to find-locations and link them to the central datasets.
Expertise at Leiden University
Dr. Joanita Vroom is a leading expert in the field of Medieval and Post- Medieval ceramics in the Mediterranean region. She has studied many major collections of Medieval and Post-Medieval pottery in the eastern Mediterranean and in the Near East, and is active as pottery specialist for international excavations and surveys in Albania (e.g., Butrint, Apollonia, Durrës, Rembeç, Shkodra), in Greece (e.g., Aetolia, Athens, Boeotia, Chalkis, Thebes, Kythera, Antikythera, Almyros, Mytilene), in western Turkey (e.g., Ephesus, Limyra, Sardis), in eastern Turkey (e.g., Tarsus, Avkat/Euchaita, Çadır Höyük, Kalehöyük, Horum Höyük, Zeytinli Bahçe), in the Crimea (e.g., Chersonesos) in Cyprus (e.g., Troodos Mountains), in Jordan (e.g., Udhruh) and in Oman (e.g., Wadi al Jizzi/Sohar). Until now, she has been working for approximately 35 projects with ca. 25 universities (14 European, 11 non-European) and ca. 14 scientific institutes (8 European, 6 non-European).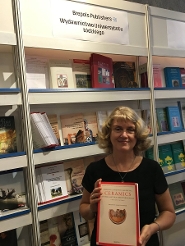 She is currently the series editor of 'Medieval and Post-Medieval Mediterranean Archaeology Series' (MPMAS) at Brepols Publishers (Turnhout). Earlier she published After Antiquity: Ceramics and Society in the Aegean from the 7th to the 20th century A.C. (Leiden, 2003), Byzantine to Modern Pottery in the Aegean: An Introduction and Field Guide (1st ed. Utrecht, 2005; 2nd edition Turnhout, 2014), Medieval and Post-Medieval Ceramics in the Eastern Mediterranean: Fact and Fiction (MPMAS 1; Turnhout, 2015), Medieval MasterChef: Archaeological and Historical Perspectives on Eastern Cuisine and Western Foodways (MPMAS 2; with Y. Waksman and R. Van Oosten; Turnhout, 2017), as well as many book chapters and articles in academic journals.