Book
Byzantine to Modern Pottery in the Aegean
An Introduction and Field Guide, Second and Revised Edition (15 December 2014)
Author

Joanita Vroom

Date

01 January 2005

Links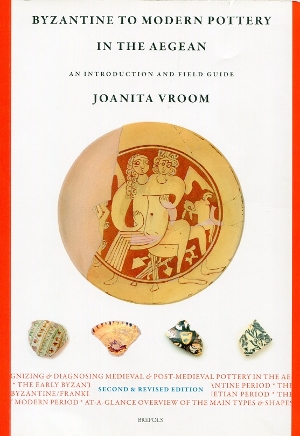 Byzantine to Modern Pottery in the Aegean is the first general introduction and easy-to-use field guide for medieval and post-medieval pottery in this part of the Mediterranean. It encompasses ca. 80 wares most commonly found during excavations, surveys and in museums, dating from the 7 th century until the 20 th century.
Published by Brepols Publishers in a second revised edition, this book opens up a neglected area of Mediterranean archaeology for fieldworkers and everybody who is interested in the history of the Aegean after the Roman era. Whether ceramic specialists involved in processing pottery, students or readers with a general interest, all will find here a much needed overview and reference work for Post-Classical ceramics in the Aegean region.
The second and revised edition of Byzantine to Modern Pottery in the Aegean offers a detailed description of the most important wares from the Early Byzantine period, the Middle Byzantine period, the Late Byzantine/Frankish period, the Turkish/Venetian period to the Modern period. In addition, it includes a discussion of the chronological problems, an overview of the main shapes of wares in the Aegean, as well as a glossary of technical terms and the essential literature for each period.
This indispensable book guides archaeologists, field workers and everyone interested in the Medieval past of the eastern Mediterranean ware by ware through 12 centuries of ceramic artefacts and human activity.
«A mine of information – likely to be the daily fare of fieldworkers. » – Antiquity
«Remarkably user-friendly and ground-breaking. – This publica­tion fills a black hole in Mediterranean archaeology. » – Minerva
Order information
This book can be ordered at the website of Brepolis