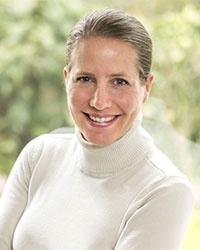 Sophie van Rijn
Universitair hoofddocent
Kort CV
Sophie van Rijn werkt als universitair hoofddocent op de afdeling Neuropedagogiek en Ontwikkelingsstoornissen van de Universiteit Leiden. Haar expertise is het onderzoeken van de sociaal-emotionele ontwikkeling in relatie tot kwetsbaarheid voor psychopathologie. Hierbij maakt zij gebruik van klinische interviews, cognitieve testen, neurobiologische maten, MRI en eyetracking.

Zij ontving haar Master of Science (cum laude) in de Psychologie aan de Universiteit van Amsterdam (2001). Aan de Universiteit Utrecht promoveerde zij (cum laude) in de Neuropsychologie en Psychiatrie (2007).

In 2008 won zij een NWO VENI beurs (€ 208.000), en in 2011 ontving zij (samen met prof H. Swaab) een beurs van € 250.000 voor onderzoek naar autisme. In 2013 won zij de Gratama Wetenschapsprijs. In 2016 ontving Sophie van Rijn een NWO VIDI beurs (€ 800.000) voor haar onderzoek naar ontwikkelingsrisico's bij jonge kinderen met een extra X of Y chromosoom.
Ze heeft meer dan 42 publicaties (waarvan 26 eerste auteurschappen) in internationale high impact tijdschriften (gemiddelde impact 5.3) en is internationaal georiënteerd met samenwerkingspartners in de USA, UK en België.

CV Sophie van Rijn (2016)
Onderzoek
Sociale vaardigheden, sociale cognitie, emotie perceptie, emotie regulatie, executieve functies, taal/communicatie, theory of mind, autisme, Klinefelter syndroom, Triple X, agressie, psychose, denkstoornissen.
Prijzen
2013: Gratama Wetenschapsprijs voor jonge wetenschappers die zich onderscheiden met vernieuwend, maatschappelijk relevant en spraakmakend onderzoek (€ 25.000)
Subsidies
2016: VIDI beurs van de Nederlandse Organisatie voor Wetenschappelijk Onderzoek (€ 800,000),
2013: Beurs van de Universiteit Leiden voor getalenteerde vrouwelijke wetenschappers (€ 15.000)
​2011: Beurs van Centrum Autisme (€ 250.000), mede-aanvrager prof. Hanna Swaab
2008: VENI persoonlijke beurs (€ 208.000), NWO
Relevante links
Promovendi
Marcia Brandenburg: Hersenontwikkeling van kinderen met een extra X chromosoom en kwetsbaarheid voor autisme: inzicht vanuit MRI (Magnetic Resonance Imaging)
Marit Bierman: Taal en de organisatie van denken: risico op psychopathologie bij kinderen met een extra X chromosoom
Gemma Zantinge: Emotie regulatie bij jonge kinderen met autisme: neurobiologische mechanismen Lex Stockmann: Ouder-kind interacties en de ontwikkeling emotie regulatie bij jonge kinderen met autisme: effectiviteit van behandeling
Jantiene Schoorl: Cognitieve en neurobiologische parameters van affectieve agressie en voorspellende waarde voor effectiviteit van behandeling (NWO FES Brain and Cognition Programme)
Universitair hoofddocent

Faculteit der Sociale Wetenschappen
Instituut Pedagogische Wetenschappen
Orthopedagogiek
Werkadres

Wassenaarseweg 52
2333 AK Leiden
Kamernummer 4B53

Contact

+31 71 527 1846
Postdoctorale opleiding tot Klinisch Neuropsycholoog, RINO

hoofddocent module Wetenschappelijk Onderzoek