Step-by-step study choice plan
Choosing a study programme at a research university or university of applied sciences can be tricky. There are so many options! Where should you begin? We will guide you step by step through the study choice process, to the study programme that's right for you.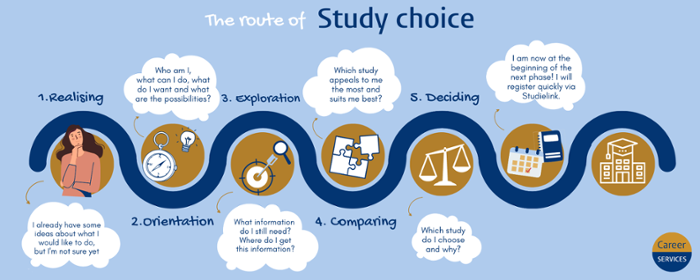 The step-by-step study choice plan consists of the following steps:
At the start of the study choice process when everything is still unclear, choosing a study programme can feel unsettling and stressful. Some people may already have ideas about what they would like to do, while many others might be unsure. Realise that feeling uncertain is normal at this stage.
What determines your choice of study?
There are many reasons you might choose a particular study programme. These reasons are different for everyone. Are you mainly looking to study something you will enjoy, or are you also focusing on whether it will prepare you to find work later? Are you searching for a fun city first and then looking for a programme you can do there? Determine what motives are important to you and take them into account in your choice of study.
What kind of decision-maker are you?
Everyone has their own way of making certain choices. Some do it more by instinct while others rely more on facts. There is no 'best' way to choose; one just suits you better than the other. Still, there is no harm in taking a different approach to choosing. That is why it's helpful to know more about decision-making styles.
Do's and Don'ts
It can also be useful to read through the Do's and Don'ts in advance, so you can learn more about pitfalls you should avoid when making a choice.
> To the next step: Orientation
In this step, you start orienting yourself towards yourself and various study programmes.
Orientation to yourself
Before you can make a study choice, it is crucial that you understand yourself. When you know who you are, what you can do, what you want and what is important to you (traits, competences, interests, values, etc.), you are more able to determine what suits you. This will point you in the right direction and help you make decisions.

Maybe you can already express this reasonably well for and about yourself, but talking about it with others (parents, family, friends) can also give you some clarity. For example, you can ask them what they think you are good at and what interests they perceive in you.

It may also be useful to take tests that can help you with this. We have listed a few here:
Personal profile
We recommend you store these test results in a personal profile. For each component (interests/competences/personality type/(work) values, other), list your 'highest' and 'lowest' scores from the tests based on a series of questions. Bringing these aspects together will give you a comprehensive overview, your own personal profile.
Now that you have a clearer image of yourself, you can look at the possibilities: the choice options or which study programmes are available to you.
Orientation to study programmes
You will now use the information about yourself that is stored in your personal profile to define areas of study that may be right for you. You can then explore these possibilities further. Which study programmes best match the profile you have created?
Start by taking a look at these websites to get a broad orientation and find as much information as possible about the study programmes that interest you:
If you are already thinking about certain study programmes or institutions, you can start looking at them more closely.
You can start by writing down themes that interest you and fit your personal profile. Begin with those themes and search for the study programmes on offer. Consider looking at both research universities and universities of applied sciences. The aim is a broad orientation to get a feel for what is possible with your interests.
Different types of higher education
Also look at the differences between universities of applied sciences (HBO) and research universities (WO) if this is not entirely clear. You can find this information in the Study Choice Tips!

Next, narrow your search by learning more about the programmes that best match your interests and preparation. You do this by delving further into the study programmes you have found.

> To the next step: Exploration
Have your eye on some study programmes? Then delve a little deeper:
Look closely at the study programme: not just the first year, but also the 2nd and 3rd years.

Skim through the subjects in the study guide for the programme. What do the subjects involve, what kind of teaching method is used, etc.

Think about what else you would like to do during your studies (e.g., study abroad, do a work placement/internship, participate in an honours programme).

Also take a quick look at the master's degree programmes and the specialisations in the bachelor's programme. Do they appeal to you?

What kind of job could you do after this study programme? Where do graduates work? What are the labour market prospects? For more information, take a look at the

study and the labour market

section.
You can do a lot online, but also take the following actions:
Go to Open Days.

Participate in Student-for-a-Day events and Experience Days. These events can help you make a better choice.

Spend a day shadowing a student to get an impression and soak up the atmosphere.

Discuss your deliberations with your parents, friends, study adviser, study choice adviser, etc.

Talk to students who are following/have graduated from the programme that appeals to you.

Interview people in the professional field about jobs the study prepares students for.
What can I ask?
No idea what to ask during Open Days?
Check out the suggestions at our Frequently Asked Questions.

> To the next step: Comparing
Now you can properly compare the study programmes that remain after going deeper. In this step, you will determine what the (most) important factors are to you and base your choice on these. Factors might include the study content, the teaching method, the opportunity to do a work placement/internship, the options within the study programme, the location or educational institution, or opportunities on the labour market.

Are you still struggling? Then use a T model. The T model is a decision-making technique for deciding between two or more options (in this case, study programmes).
Once you have researched and compared your options, it becomes possible to make a choice. Are you ready to take the plunge? You have researched various study programmes extensively, and now it is time to dare to take the step and choose one.

And remember that study choices are not necessarily final. For example, research shows that after 25 years, over 75% of working people are no longer employed in the industry they initially studied! This is because you continue to develop and gain new experiences. Over time, you will make new choices based on those new experiences. So don't assume you will be stuck with your study choice for the rest of your life. Don't make the choice too hard!
> To the next step: Deciding
Have you found a study programme that appeals to you, and are you ready to make the decision? Congratulations! You are now at the beginning of the next phase of your life! Enrol in the study programme of your choice at Studielink!