Tanzania: Marise Koch-Hekstra & Joris Koch
How are our Leiden alumni coping in their country with restrictive measures and little information from the government? Read the story of Leiden alumni Marise Koch-Hekstra (68) and Joris Koch (73), retired general practitioners from Apeldoorn in the Netherlands, who now run a children's home and tented holiday lodge in Tanzania.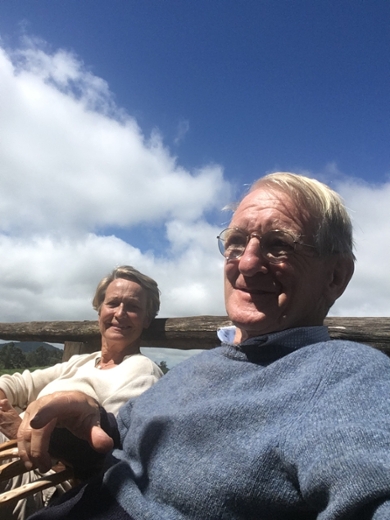 "Joris arrived in Leiden in 1966 and Marise in 1970, both as medical students. After finishing our studies, we got married and ran a GP practice in Apeldoorn for over 30 years. In 2006, we began work on a holiday lodge and children's home for orphans near the city of Arusha and Mount Kilimanjaro in Tanzania.
The name of the place is Rhotia Valley, with the tented lodge on one side of the hills and the children's home on the other. In 2009, we transferred the GP practice to our successor and settled in Tanzania. We come to the Netherlands about four times a year to see our children and grandchildren and of course our friends.

School fees and special projects
We employ a staff of 85 to manage our tented lodge and the children's home, which has 43 children aged between 6 and 23, nine of whom go to college or university. The entire income from the lodge goes to the children's home. We are also supported by a foundation, set up by friends in the Netherlands to cover school fees, other education costs and special projects.
Looking back on almost 15 years of sometimes hard and mainly very rewarding work, we can proudly say that Rhotia Valley has become a close community. We have become self-sufficient for the most part, with farmland for corn, beans and sunflowers, a professional bakery and 22 pigs, 15 cows and 60 chickens.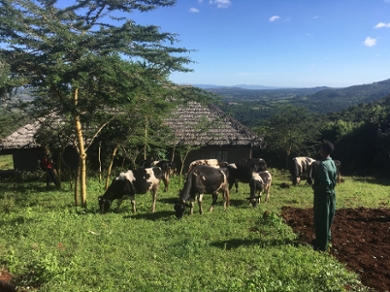 And then, all of a sudden, corona 
On 17 March, the first corona patient entered Tanzania. KLM immediately cancelled all its flights. Joris was in Holland, on his way to his annual ski trip with his study friends. The trip was cancelled and he returned to Rhotia Valley on the very last flight from Amsterdam to Arusha.
So there we were, with our staff and children, but no guests. Not a bad place to be, on the foothills of the Ngorongoro Crater, at an altitude of 1,700 metres. With lots of fresh air and clear light in the daytime and elephants wandering around at night. Luckily, it was the low season for tourists.
But how are we dealing with corona here, responsible as we are for 43 kids and 85 staff members? The government has not provided any practical information or clear data. The President has simply asked people not to die of corona and told everyone to pray a lot.
Funerals held in secret at night 
Many, many people have died of Covid-19, often obese people with diabetes and vascular disease. Their funerals were held in secret at night. The population of Tanzania consists of many young people, very few of whom have become infected. They may have built up a certain level of immunity, having previously contracted malaria.
Thanks to unlimited information from the internet and our own medical experience, we understood we had no other choice but to put the lodge and children's house into lockdown. Our staff members were free to choose whether to stay in their room at Rhotia or go to their homes in the Karatu district, 15 kilometres from our place. Half of them chose to stay.
What we feared came true 
Marise left Rhotia once to do some Easter shopping at a market and buy some extra fruit for our 80-strong community at that time. And what we feared came true. Marise became sick, followed by Joris four days later. We stayed in quarantine in our own little house, and were looked after really well by the kitchen of the children's house. Luckily, we did not infect anyone else here. We decided not to get tested because the results would never have come back from Dar Es Salaam.
We went through some frightening moments, but after three weeks we were fortunate to be 99% better. We had taken a lot of antibiotics that are freely available online. This might not win the approval of the National Institute for Public Health and the Environment (RIVM) back in the Netherlands, but we are convinced it helped us overcome the disease.
We have welcomed a few guests again
Now, in June, colleges and universities are open again and the President says corona has been defeated. Everyone can go up and down again . We have welcomed a few guests again, who have to follow our strict hygiene rules. The wildlife tours in the Lake Manyara, Tarangire and Serengeti National Parks have been resumed, but they run over empty paths.
Little money from abroad is being earned in Tanzania right now. The President has clearly opted for 'business as usual', although neighbouring countries are not particularly cooperative and shipping and other kinds of transportation have come to a complete standstill.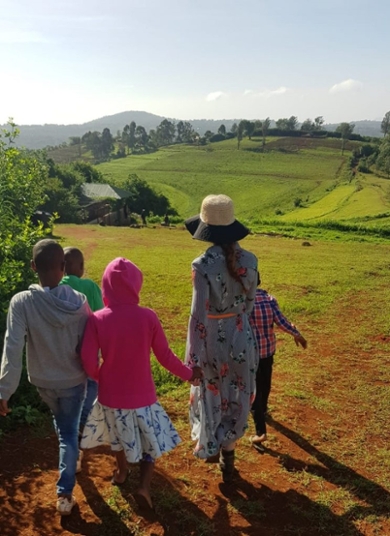 Free movement and full beaches again
The official death rate for the whole country is 21, but we around 20 people that we knew first hand probably died of Covid-19. People live outdoors here, even in the big cities, and corona is not dictating anyone's social life. The face masks here are more like chin masks. The President's official declaration that corona has been overcome is being celebrated with free movement and full beaches again.
We are trying to come to the Netherlands for a few weeks. KLM tickets that we had already booked have been cancelled, as have Turkish Airways tickets. Now we hope to fly with Quatar Airlines, from Dar Es Salaam, to Doha and on to Amsterdam. Life remains an adventure and a challenge, here in Tanzania."
More information
17.07.2020

Read all the stories