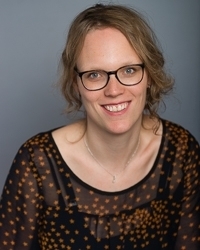 Marieke Bos
Onderzoeker
Naam

Dr. M.G.N. Bos

Telefoon

E-mail
Onderzoeker
Faculteit der Sociale Wetenschappen
Instituut Psychologie
Ontwikkelings- & Onderwijspsychologie
Broekhof E., Bos M.G.N., Camodeca M. & Rieffe C. (2018), Longitudinal associations between bullying and emotions in deaf and hard of hearing adolescents, Journal of Deaf Studies and Deaf Education 23(1): 17-27.
Schutter D.J.L.G., Meuwese R., Bos M.G.N., Crone E.A. & Peper J.S. (2017), Exploring the role of testosterone in the cerebellum link to neuroticism: From adolescence to early adulthood, Psychoneuroendocrinology 78: 203-212.
Rieffe C., Pouw L., Bos & M. (2016), Een beetje boos is okay; emotie regulatie bij kinderen, Wetenschappelijk Tijdschrift Autisme 15(4): 154-158.
Broekhof E., Ketelaar L., Stockmann L., Van Zijp A., Bos M.G.N. & Rieffe C. (2015), The understanding of intentions, desires and beliefs in young children with Autism Spectrum Disorder, Journal of Autism and Developmental Disorders 45(7): 2035-2045.
Gazendam F.J., Kamphuis J.H., Eigenhuis A., Huizenga H.M., Soeter M., Bos M.G.N., Sevenster D. & Kindt M. (2015), Personality predicts individual variation in fear learning: A multilevel growth modeling approach, Clinical Psychological Science 3(2): 175-188.
Bos M.G.N., Jacobs van Goethem T.H., Beckers T. & Kindt M. (2014), Cortisol response mediates the effect of post-reactivation stress exposure on contextualization of emotional memories, Psychoneuroendocrinology 50: 72-84.
Bos M.G.N., Beckers T. & Kindt M. (2014), Noradrenergic blockade of memory reconsolidation: A failure to reduce conditioned fear responding, Frontiers in Behavioral Neuroscience 8: e412.
Bos M.G.N., Schuijer J., Lodestijn F., Beckers T. & Kindt M. (2014), Stress enhances reconsolidation of declarative memory, Psychoneuroendocrinology 46: 102-113.
Gunther Moor B., Bos M.G.N., Crone E.A. & Van der Molen M.W. (2014), Peer rejection cues induce cardiac slowing after transition into adolescence, Developmental Psychology 50(3): 947-955.
Bos M.G.N., Jentgens P., Beckers T. & Kindt M. (2013), Psychophysiological response patterns to affective film stimuli, PLoS ONE 8(4): e62661.
Huizenga H.M., Van der Molen M.W., Bexkens A., Bos M.G.N. & Van den Wildenberg W.P.M. (2012), Muscle or motivation? A stop-signal study on the effects of sequential cognitive control, FRONTIERS IN PSYCHOLOGY 3: e126.
Geen relevante nevenwerkzaamheden