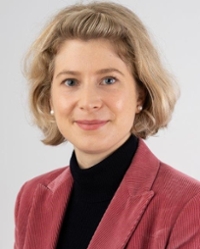 Anna-Alexandra Marhold
Universitair docent
Naam

Mr.dr. A.A. Marhold

Telefoon

E-mail
Anna Marhold is universitair docent bij het Instituut voor Publiekrecht en het Grotius Centre for International Legal Studies van de Universiteit Leiden. Haar specialisatie is internationaal economisch recht, met een focus op internationaal handelsrecht op het snijvlak van energie- en milieuregelgeving.
Meer informatie over Anna-Alexandra Marhold
Opleiding en carrière
Anna Marhold promoveerde in de rechten aan het European University Institute (EUI) in Florence (2016). In 2015 was ze Marie Curie Early Stage Research Fellow aan het Graduate Institute in Genève, Zwitserland, in het kader van DISSETTLE (Dispute Settlement in Trade: Training in Law and Economics). In 2013-2014 ontving Anna de EU-US Fulbright-Schuman Grant en was ze gastonderzoeker aan de NYU School of Law (VS). Ze is afgestudeerd in Rechten (LLB, LLM), gespecialiseerd in internationaal handels- en investeringsrecht, en in Russisch (BA, MA) aan de Universiteit van Amsterdam (UvA). Voordat ze in 2019 bij Leiden kwam werken, was Anna universitair docent bij het Tilburg Law and Economics Centre (TILEC). Tijdens haar studie was Anna Blue Book Trainee bij de Europese Dienst voor Extern Optreden (EDEO) bij de EU-delegatie in Armenië en Assistant Attaché bij de Nederlandse Permanente Vertegenwoordiging bij het hoofdkwartier van de Verenigde Naties in New York. Ze spreekt Nederlands, Engels, Tsjechisch en Russisch.
Anna heeft gepubliceerd op het gebied van internationaal economisch, handels- en energierecht en externe handelsbetrekkingen van de EU. Haar boek getiteld Energy in International Trade Law: Concepts, Regulation and Changing Markets (Cambridge University Press, 2021) onderzoekt hoe internationaal handelsrecht de globale energiehandel reguleert tegen de achtergrond van energiemarkten die de afgelopen decennia radicaal zijn veranderd.
Ze is lid van de Executive Council van de Society for International Economic Law (SIEL) en de Coordination Commitee van de European Society of International Law (ESIL) Interest Group on International Economic Law, evenals lid van het Platform on International Energy Governance.
Onderzoeksgebieden en interesses
Anna is geïnteresseerd in de aanhoudende crisis op het gebied van internationaal handelsrecht, veiligheidsbelangen en andere niet-strikt handels gerelateerde doelstellingen in internationaal economisch recht; EU-energiebeleid en de interactie met de verplichtingen in het kader van Wereldhandelsorganisatie (WTO) recht; energie- en milieuregelgeving in handelsovereenkomsten; mechanismen voor koolstofgrensaanpassing en de transitie naar duurzame energie; de toekomst van de Energy Charter Treaty; het OPEC-kartel; juridische en economische benaderingen van handel en energieregulering; toegang tot voorraden en natuurlijke hulpbronnen; publieke goederen; regulering van netwerkindustrieën; het rijmen van energiezekerheid met duurzame ontwikkeling en consumentenbescherming; regulering van de doorvoer van energie; het Verdrag tot oprichting van de Energiegemeenschap en Europese externe energiebetrekkingen, met inbegrip van de regulering van gaspijpleidingen met de Europese nabuurschap.
Onderwijsactiviteiten
In Leiden doceert Anna Marhold internationaal publiekrecht gerelateerde vakken op zowel bachelor- als masterniveau. Ze is verantwoordelijk voor cursussen in internationaal handelsrecht in de International Dispute Settlement and Arbitration (IDSA) Advanced LL.M en in het Duke-Leiden Institute in Global and Transnational Law.
Anna is tevens als Visiting Professor verbonden aan Vermont Law School (VS), waar zij doceert over mondiaal en vergelijkend energie- en milieurecht, en een gastdocent aan het Instituut Clingendael voor Internationale Betrekkingen, onder meer in het kader van het WTO – The Netherlands Trainee Programme (NTP).
Universitair docent
Faculteit Rechtsgeleerdheid
Instituut voor Publiekrecht
Grotius Centre for Intern Legal Studies
Guest Lecturer
Visiting Adjunct Professor