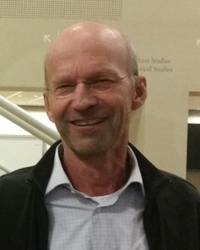 Menno Hoogland
Guest Researcher
Name

Dr. M.L.P. Hoogland

Telephone

E-mail

ORCID iD
Menno Hoogland is a guest researcher at the Faculty of Archaeology.
Menno Hoogland is a guest researcher at the Faculty of Archaeology. He was born in 1954 in Sliedrecht, studied cultural anthropology in Leiden with a focus on prehistory and physical anthropology. In 1980 he participated in the Spitsbergen expedition of the University of Groningen. He wrote his PhD thesis on settlement patterns of the Amerindian population of Saba, Netherlands Antilles.

In 1992 he was appointed as a lecturer at the Faculty of Archaeology and presently he gives courses in archaeological field techniques, Caribbean archaeology and Amazonian shamanism. The analysis of burial practices and settlement organisation are the focus of his research. Together with Prof. dr. Corinne Hofman, he conducted fieldwork on Saba and St. Martin (1987-1993) and later also jointly with André Delpuech (Direction Régionale des Affaires Culturelles de Guadeloupe) on Guadeloupe. From 1993 to 2000, they worked in an international cooperation programme and conducted excavations at the large settlement site of Anse a la Gourde in the northeastern part of Grande Terre and other sites in Guadeloupe. In 2001 and 2002, he carried out fieldwork with Prof. dr. Corinne Hofman at the archaic site of Plum Piece, Saba.

His current fieldwork on St. Lucia is carried out in cooperation with the St. Lucia Archaeological and Historical Society and the Florida Museum of Natural History (Prof. dr. William Keegan). In 2004 he was awarded a grant by the Netherlands Foundation for Scientific Research (NWO) for the programme 'Houses for the living and the dead'. The project focuses on the organisation of Taíno households in the Dominican Republic (AD 1000-1500) and is executed in cooperation with the Museo del Hombre Dominicano.
Guest Researcher
Faculteit Archeologie
Archaeological Sciences
Bio-Archaeology
Work address
Van Steenis
Einsteinweg 2
2333 CC Leiden
Contact
No relevant ancillary activities