Housing
If you are thinking of moving to Leiden to follow your master's, you'll be pleased to learn that Leiden offers many types of student accommodation. These vary from small student houses to large communal houses, and from student flats to one-room studios. But, if necessary, it's also possible to find yourself an apartment.
Housing via Leiden University
Are you a new international student? Each semester, Leiden University reserves a limited number of rooms for international students via a local housing agency. These rooms are intended for new short-stay students only as the maximum rental contract duration is one year. So if you intend joining Leiden University for more than one year, you are instead advised to seek housing yourself – see below.

Find out more about requesting housing via the university on the housing website. Be aware that due to limited availability, we cannot guarantee a room to all applicants so it is essential that you request housing early.
Finding housing yourself
Arranging housing is your responsibility when studying at Leiden University. Both Dutch and international students should look for accommodation themselves and there are many ways to do so. Most students in Leiden find a room through DUWO, which is one of the largest student accommodation corporations in the Netherlands. There are other agencies and corporations as well, and they all offer rooms of all types and sizes, in or near the city center, making them the ideal place to start your search. Find more details on finding accommodation on Finding Housing Yourself.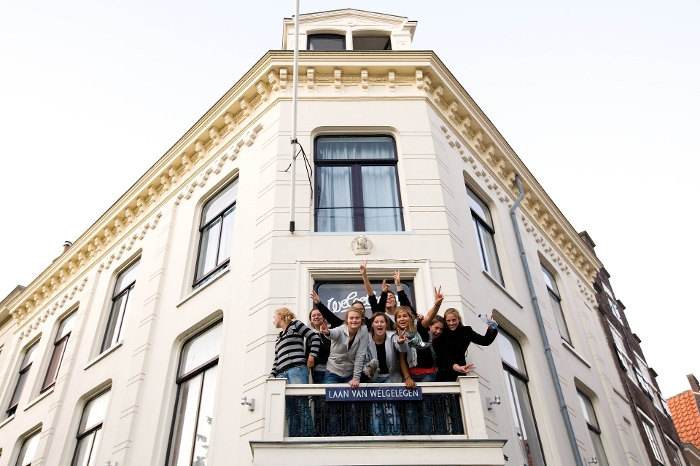 Living in student accommodation
You've found a room? Congratulations! Living and studying in Leiden will enrich your master's experience. Keep in mind that things happen a little differently in the Netherlands in that there are no dorms or meal plans with the university. Therefore you'll have to do your own cooking and laundry for a start, and arrange your own finances. But on the other hand, living in student accommodation can help you build your social and academic network for the future.

Register as a resident
Once you have a place to live, it is very important that you register at your local town hall as soon as possible. This is particularly important for Dutch residence permit holders as failure to do so can result in the cancellation of your permit, see obligations for residence permit holders.
How much does student accommodation in Leiden cost?
The average cost of a room (non-furnished) in Leiden is between €300 and €500 a month. Then, of course, you'll also need money for things like contract costs, groceries, insurance, study materials, transport and going out. So you'll need to consider how you financially plan for your study experience.