Housing
If you are thinking of moving to Leiden to follow your master's, you'll be pleased to learn that Leiden offers many types of student accommodation. These vary from small student houses to large communal houses, and from student flats to one-room studios. But, if necessary, it's also possible to find yourself an apartment.
Leiden University Housing Office
If you are an international student who will follow a master's programme at Leiden University, you can request assistance in finding accommodation from our Housing Office. This is particularly convenient if you are coming from overseas and don't yet have any contacts in the Netherlands. The Housing Office mediates between international students and the DUWO housing corporation and can help you find a room in Leiden. Refer to our Housing pages for a handy step by step guide through the application process. Here you can also find information on costs and procedures, as well as photos of the various student housing complexes.
Finding housing yourself
If you want to look for accommodation yourself, there are many ways to do so. If so, your best course of action is to start looking for a suitable place through DUWO, the Netherlands' biggest student accommodation agency. DUWO helps students find rooms of all types and sizes, in or near the city centre. After registering with DUWO, there are two ways you can look for a place.
1. By applying for a room in a student house
In most cases, you'll be sharing a house with other students. During what is akin to an open house, you'll need to convince the resident students that you'll make the ideal new roommate. If you succeed, DUWO will be informed of the decision and you can move in.
2. By applying for individual accommodation
DUWO can also help you find individual accommodation. However, this is only possible for a very limited number of rooms in the larger complexes and these are allocated according to how long you've been registered with DUWO. The longer you've been registered, the greater your chance.
Accommodation in Leiden
Just as in many other student cities, finding accommodation in Leiden can be very time-consuming. For this reason you'd be well advised to start looking for accommodation as soon as you know that you'll be following a master's at Leiden University. Keep a close eye on the availability of student accommodation on various websites, including:
Visit our finding housing yourself page for more handy tips and tricks.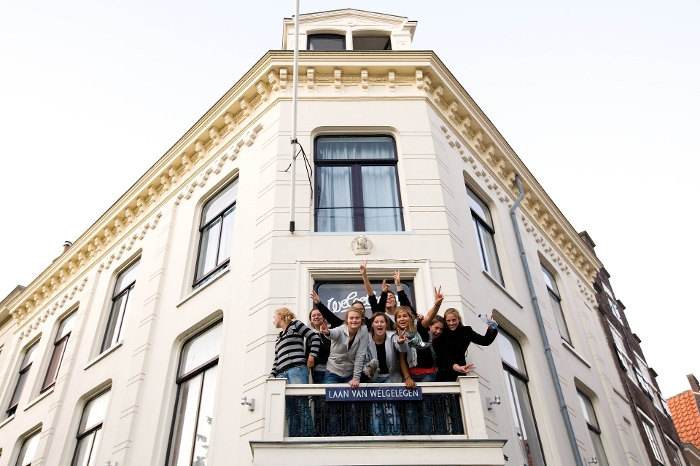 How much does student accommodation in Leiden cost?
The average cost of a room (non-furnished) in Leiden is between €300 and €500 a month.