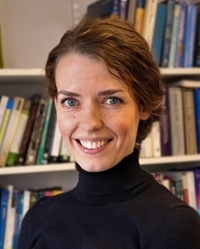 Ieke de Vries
Universitair docent
Naam

Dr. I. de Vries

Telefoon

E-mail

ORCID iD
Ieke de Vries werkt als universitair docent criminologie bij het Instituut voor Strafrecht & Criminologie.
Algemeen
Ieke de Vries is werkzaam als universitair docent criminologie bij de afdeling Criminologie van het Instituut voor Strafrecht & Criminologie. Na drie jaar gewerkt te hebben voor de Nationaal Rapporteur Mensenhandel en Seksueel Geweld tegen Kinderen, heeft ze een academisch traject voortgezet in de Verenigde Staten (VS). Daar heeft zij haar Ph.D. behaald aan Northeastern University (Boston, Massachusetts) en was zij vervolgens aangesteld als Assistant Professor bij Florida State University (Tallahassee, Florida).
Onderzoek
De onderzoeksagenda van Ieke richt zich voornamelijk op mensenhandel, andere verborgen misdaad, of misdaadsvormen die moelijk te identificeren zijn, bijvoorbeeld vanwege recente wet- en regelgeving of omdat slachtoffers geen aangifte willen doen. In haar proefschrift onderzocht Ieke de geografie van illegale massagesalons in drie verschillende staten in de VS, in het specifiek de locaties van illegale massagesalons, wijkoverschrijdende sociale netwerken, en de impact van een aggressieve politieaanpak op de geografie van illegale massagesalons. Hiervoor maakte zij gebruik van criminologische theorieën en unieke online en administratieve datasets. Dit onderzoek werd gefinancierd door een Research Fellowship van de National Institute of Justice.
Naast de geografie van illegale markten, kijkt Ieke naar een aantal sub-themas, waaronder de aanpak van criminaliteit vanuit instanties zoals de politie en de private sector, risicofactoren voor (herhaald) slachtofferschap, sociale en geografische netwerken, en publieke opinie.
Om deze thema's te onderzoeken, maakt zij gebruik van zowel kwalitatieve en kwantitatieve – waaronder computationele – methoden. Voorbeelden van deze methoden zijn interviews, digitale onderzoeksmethoden, regressie-analyses, sociale netwerkanalyses, geografische methoden, en machine-learning.
Onderwijs
Ieke de Vries verzorgt binnen de bacheloropleiding de vakken Mensenhandel en Practicum Verklarende Criminologie en Onderzoeksvaardigheden. Daarnaast begeleidt zij bachelor- en masterscripties.
Universitair docent
Faculteit Rechtsgeleerdheid
Instituut voor Strafrecht & Criminologie
Criminologie
Faculty Affiliate
Scientific Advisory Committee on the 2022 Edition of the Global Report on Trafficking in Persons