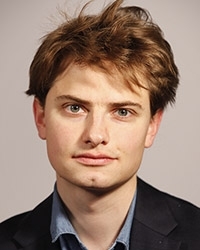 Vestert Borger
Assistant Professor
Name

Dr. V. Borger LLM

Telephone

E-mail
Vestert Borger is an Assistant Professor of European Law at the Europa Institute of Leiden University.
Dr. Borger studied Dutch and European Law at the European Law School of Maastricht University. He obtained his bachelor and master degrees with distinction (cum laude) and participated in the Honours Programme of the law faculty. During his studies he did an internship at the department of European law of the Dutch Ministry of Foreign Affairs where he assisted legal counsels of the government in litigation before the European Court of Justice.
Borger obtained his doctorate in January 2018 at Leiden University with distinction (cum laude). His dissertation, entitled 'The Transformation of the Euro: Law, Contract, Solidarity', studies how the currency union could undergo constitutional change during the euro crisis without hardly any formal amendment to the Union Treaties. During his time as a PhD-fellow, in 2013, he also worked as a trainee for the legal service of the European Commission, focusing mostly on economic and monetary affairs.
Besides his specialisation in the law of the economic and monetary union, Borger has a keen interest in the institutional and constitutional law of the European Union more generally. He has published in Dutch and international law journals, among which SEW, German Law Journal, European Constitutional Law Review, and Common Market Law Review. In 2017 Borger received the Meijers Prize for the best scientific article written by a doctoral student at Leiden Law School. He has also published several opinion pieces on the euro crisis in NRC Handelsblad, De Volkskrant and Het Financieele Dagblad.
Over the past years Borger has taught courses in European law at bachelor, master and advanced master level. He also supervises bachelor and master theses.
Recently, Borger was awarded a Niels Stensen Fellowship. In the academic year 2019-2020 he will conduct research as a Niels Stensen Fellow at Yale Law School in the United States.
Assistant Professor
Faculteit Rechtsgeleerdheid
Instituut voor Publiekrecht
Europees Recht
No relevant ancillary activities