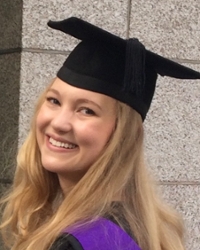 Corlijn Reijgwart
PhD candidate
Name

C.N.I. Reijgwart BSc BA

Telephone

E-mail

ORCID iD
Corlijn received her bachelors in medicine (Bsc) from University College London (UCL), specializing in the history and philosophy of science and medicine. She completed a second bachelors in law at the University of Cambridge, where her thesis concerned the Nagoya Protocol and public health.
She graduated from her European Law master's (LLM) at Leiden University in 2022, writing her thesis about nextgenerationEU and the financial autonomy of the European Union and participating in the pre-PhD program.
She is currently a Meijers PhD-candidate at the Europa institute researching the relationship between perceived legitimacy and redistribution at the EU-level.
PhD candidate
Faculteit Rechtsgeleerdheid
Instituut voor Publiekrecht
Europees Recht
No relevant ancillary activities