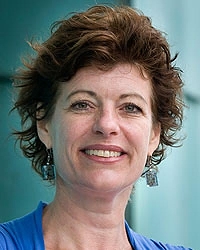 Mirjam de Bruijn
Professor of Contemporary History and Anthropology of Africa
Name

Prof.dr. M.E. de Bruijn

Telephone

E-mail

ORCID iD
Mirjam de Bruijn is an anthropologist whose work has a clearly interdisciplinary character with a preference for contemporary history and cultural studies.
For an overview of Mirjam de Bruijn's research and publications, visit her profile on the ASCL website.
The research Mirjam develops in interdisciplinary research programmes evolves around different themes and focuses on African situations. She combines history, anthropology, communication science. Themes are security, mobility, youth/gender, crisis, nomadism, conflict (Duress), political agency. Main countries of research are situated in West and Central Africa. Since 2006 Mirjam developed research integrating developments of ICTs (mobile telephony and connectivity) in relation to societal changes, both in the field of the social, economic and political. This research included Southern African situations as well. Special attention was given to mobile communities, among which (pastoralist) nomadic and diasporic communities. (see www.mobileafricarevisited.wordpress.com) From 2012 she led a research project that turned its focus to the relation between enduring crisis, ICTs and political agency and mobility. (See vici project Connecting in times of duress). Since 2016 she participated in a research on the recent developments in the Sahel zone in which conflicts between herders and farmers have become a central topic (again). (www.nomadesahel.org). Mirjam has developed her research always in collaboration with researchers and research institutes in Africa. She also did develop research methodologies and publication/dissemination in relation to Digital Humanities. This has led to the creation of the foundation Voice4Thought (www.voice4thought.org), and the publication platform (with Brill publishers) BridgingHumanities (www.bridginghumanities.com). Mirjam is actively involved in both organisations.
Mirjam is member of the project Digital Empire, a network funded by the European Union, where scholars gather to understand the influence of the digital on new configurations of power in the world. She collaborates in a project on protracted refugees in East Africa as part of a Horizon2020 project (https://trafig.eu). She also participates in the dryland programme of COST action, drylands facing change, a European union funded network.
Her teaching is in the field of African Studies. Mirjam has been awarded funds in 2018 and 2019 to develop innovative teaching programmes, which she invested in the development of methodology and method in the humanities in the digital age. See: https://innovativeresearchmethods.org/.
Professor of Contemporary History and Anthropology of Africa
Faculty of Humanities
Institute for History
Afrika studies
Work address
Johan Huizinga
Doelensteeg 16
2311 VL Leiden
Room number 1.36
Contact
Professor of Culture and identity in Africa
Afrika-Studiecentrum
Wetenschappelijke staf
board member and active co-manager
Inhoudelijke begeleiding ven dit project in Mali
editor
Academisch advies commissie
board member, president