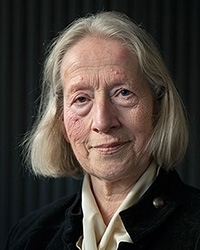 Corrie Bakels
Emeritus professor
Name

Prof.dr. C.C. Bakels

Telephone

E-mail
Corrie Bakels is an emeritus professor in paleoeconomy.
Research
My current research concerns:
1. the influence of human beings on their environment, from Neandertals up to the 19th century.
2. farming practices.
Teaching activities
I don't teach anymore, but I have the supervision of a PhD student and answer all kinds of questions put forward by other students.
Curriculum vitae
Trained as a specialist in water management and water purification my hobby brought me a job in archaeology. I have worked as a biologically trained archaeologist from 1968 onwards, first in the Interfaculty of Prehistory and later in the Faculty of Archaeology. My PhD thesis was on the Linearband Culture. I ended as a professor of paleoeconomy and continue working as a professor emeritus.
Emeritus professor
Faculteit Archeologie
Archaeological Sciences
Bio-Archaeology
Work address
Van Steenis
Einsteinweg 2
2333 CC Leiden
Room number C114
Contact
No relevant ancillary activities